Calgary entrepreneur joins forces to create big box vehicle wash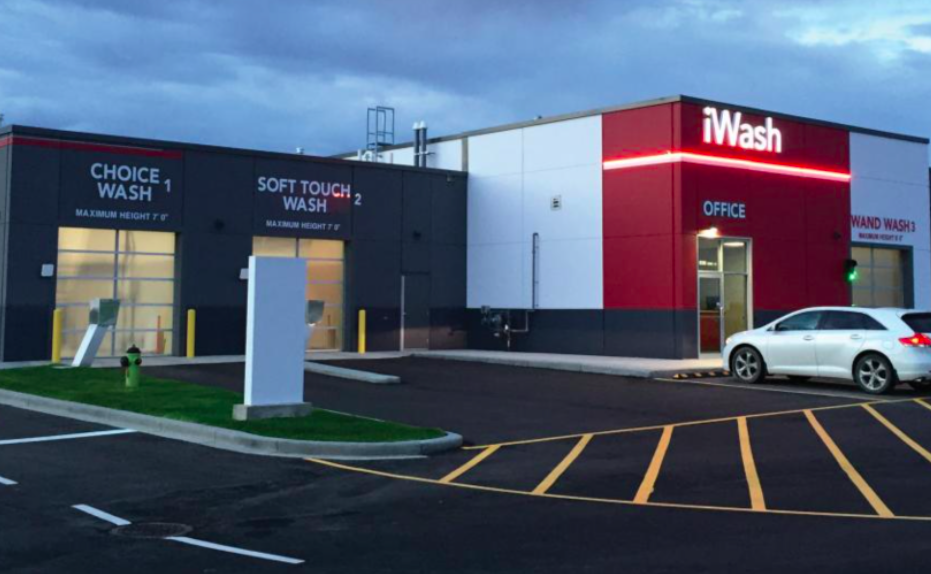 Calgary's new iWash is big. The Barlow Trail multi-service site owned and operated by Kunal Patel opened in June 2019 and today offers the largest commercial vehicle wash bays in the city as well as automatic rollover and wand wash bays for regular vehicles. 
Patel, a savvy businessman who owns other enterprises, including a construction company, saw the need for a wash facility that could accommodate the largest transport trucks. He researched and found the location in Northeast Calgary in 2017.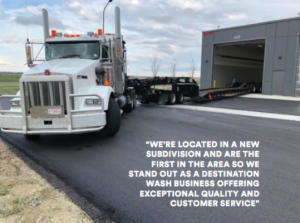 "I knew I wanted to own a car wash because Calgary is a great location because of the weather we get here, it's a good cash flow business, and if designed and operated well has low overhead costs.  I saw a need for an independent wash facility that could handle commercial fleets, RV's, trailers, cars, et cetera," says Patel, mentioning that development costs for the 13,000 square foot business stood around $5.5 million. "The Northeast area is under-serviced and I could see there were trucking companies and many warehouses and distribution centers in the area. The location was ideal because of the easy access to two main roadway arteries in Calgary; Deerfoot Trail and Stoney Trail just minutes away from iWash.  I bought the land, designed the site, and built the facility, all internally within my family business."
Patel sought out simplicity in the process. "I handled the general contracting and architectural scope and then brought knowledgeable engineers and consultants into the project. I decided to go with Mark VII as my car wash supplier because they brought a lot of experience and they offered a one-stop-shop where I didn't have to deal with multiple vendors. They helped with design, layouts, and took care of the equipment procurement and placement. This made the development process a lot easier," he says remarking that they closed on the land deal in the spring of 2017 and opened for business spring of 2019.
Here, Mark VII Canada general manager comments that they were able to bring a lot to the table. 
"We supplied the machinery, worked with ancillary manufacturers such as Bay Watch Doors and Exacta payment systems and handled all the chemicals," says Canadian GM Chris Armena. He reports that they were able to bring their Denver-based engineering department into the mix. "This was very valuable from a planning standpoint. Once we had the drawings from the architect we were able to offer design advice that enabled efficiencies in the building footprint.  Our team has a lot of experience and this made the development easier," says Armena remarking that although Patel had great knowledge and experience with land development and construction, he was new to the car wash industry and the site required everything. "When Kunal and I started talking the location was just a brownfield!"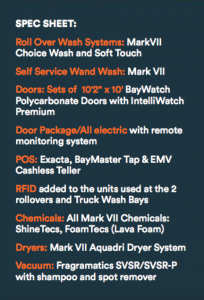 On offer now at iWash are two roll-over systems (one Choice Wash and one Soft-Touch Wash), four self serve wand wash bays and two massive 120-foot truck bays with multiple high-pressure stations inside. Mark VII's Choice Wash gives customers the choice to choose between touchless, soft-touch or both wash options. There is also a four-unit vacuum area. Everything is 24-hour accessible and the site is entirely cashless and designed for the ultimate in vehicle washing convenience.
"I'm the only independent truck wash operator in the area," says Patel. "There are two other independent car washes and a chain site located nearby who I compete with but they offer different services and since iWash has the largest truck bays in the area and city, it's something they don't have, this allows us to stand out.  We're located in a new subdivision and are the first in the area so we stand out as a destination wash business offering exceptional quality and customer service." 
Patel comments that in his truck bay customers often take anywhere from ten to 45 plus minutes to clean off their rigs. "Operators find that dirty trucks are heavier and use more fuel and there are regulations to have trucks kept clean. We are the only place in the area where drivers can get this done. So far even though our business has slowed because of the novel coronavirus we are fortunate and thankful to have been stable with our independent and corporate truck business," he says.
Even though the 120-foot truck bays are massive, the high-pressure wand wash system itself is compact. For example, Chris Armena reports that the equipment room uses a small 56-inch by 24-inch footprint to house four pumps for the four wands in the truck wash bays. 
In the automatic bays, Mark VII's Choice Wash allows customers to decide whether they want the ease of a touchless wash where high-pressure spray removes grime without brushes rubbing paint surfaces, or a soft-touch wash with closed-cell, soft foam technology providing scratch and residue-free washes. The Choice Wash machine is somewhat unique in combining both complete soft-touch and complete touchless capabilities in a single rollover system, giving customers the choice that suits their preference.
And, while the efficacy of the system to clean cars and trucks is essential to customer satisfaction, Patel reports that he wanted to use chemicals that had a positive environmental impact. In the roll-over bays, customers get an initial spray of bug wash and pre-soak, then a rinse and soak as well as an undercarriage bath. The site also uses a soapy foam curtain and Shine Tecs to deliver a winning package that brings customers back. Shine Tecs offers polymers that instantly clarify paint finish. When buffed in, micro compounds generate a deeper gloss shine. It gives a hand wax quality, outperforms ceramic coatings and even repairs minor damage to paint surfaces.
"We tend to suggest brushes in combination with easy-on-the-environment chemicals," says Armena. "This way the chemicals work better with less power. We don't advise strong pre-soaks and go with more dwell time to achieve the best wash."
In these challenging times when businesses seek contactless payment from customers, iWash is a step ahead. According to Patel he sought to create a cashless business from the very start. "With cashless payment, there are no coins to collect and security is less of a concern," he says, mentioning customers can pay via credit and debit as well as ApplePay and GooglePay in addition to pre-loaded iWash loyalty cards. "Its as simple as tap, wash and go.  Also, commercial customers no longer have to worry about drivers having receipts for washes. We track usage and send a monthly invoice. Everything is handled via our Exacta software and menu board system that makes product selection and payment easy."
The overarching idea has been to create a vehicle wash business that is simple, effective and efficient, all while offering the highest wash quality and customer satisfaction. Consider that iWash uses only one employee to manage the entire site. They clean the bays, perform maintenance and handle any customer requests, such as offer receipts to those who need them. "If needed, I can watch the entire operation via remote monitoring," says Patel. "We have good camera placement and I can access operation systems such as the overhead doors, or lock the office if there is a problem after staff leave."
Concluding, Patel remarks that while iWash is big the process to get it underway was not unwieldy. "It was a team effort, everyone working together to design, build and now operate a fantastic and huge wash site with the biggest truck bays in the city!"