Locally invested, community minded
Mid Island Co-op builds loyalty from the inside out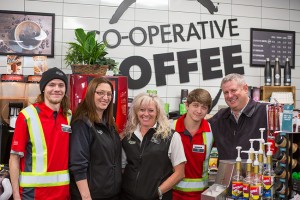 Last year, Mid Island Co-op donated more than $150,000 to the Vancouver Island communities it serves. "Social responsibility and concern for community is our mandate," says general manager Ian Anderson. "It's one of the seven international principles upon which co-operatives are built."

Mid Island Co-op supports a broad range of local groups, organizations, events and charities, and puts priority on those that build long-term capacity in the community. In the last year, it has provided an $8,500 donation to Nanaimo Food Share's Solar Panel Project, $25,000 to refurbish the Parksville Beach Spray Park, and $5,000 to help make the playground at McGirr Elementary School accessible for children with disabilities, among others.

The co-op has created a Green Fund and reserves are generated each time a member reloads the Mid Island Co-op Loyalty fuel card at any location. The most recent project is a riparian zone reclamation and enhancement of Beadnell Creek in the town of Lake Cowichan, adjacent to one of their properties. "We believe we have a responsibility to conduct business in a way that is environmentally sound, and that project fits perfectly with our values," Anderson says.

Reaching out to help extends beyond its service area, too. Last September 19, co-ops in Western Canada teamed together for Fuel Good Day. The locations each donated at least five cents per litre of fuel purchased and together raised more than $570,000 for local charities and non-profits. Mid Island Co-op donated most of their proceeds from the day to local food banks.

Clean and modern fuels loyalty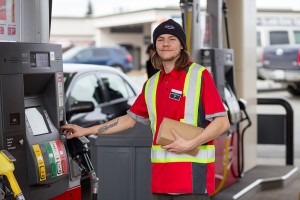 Mid Island Co-op operates 15 gas bar/convenience stores, seven commercial cardlocks, and two liquor stores. Their retail locations are clean, bright and modern. "We have updated our locations with state-of-the-art equipment and we pay attention to things that matter – like clean washrooms," says Blair Gjevre, petroleum operations manager. "That makes a big difference, for all our customers."

Staff training focuses on friendliness, and the organization's surveys show that customers appreciate feeling welcomed and valued. "We've built a culture here where we treat people like family," says gas bar manager Shawna Allan. "And a lot of our young staff, and many of the more senior ones, come from families that have long been members and so they understand how important that is."

A friendly atmosphere helps build loyalty and positive word of mouth, Gjevre says. "Repeat business is key in the c-store channel. Once people get into a pattern of coming to your store once or twice a day, that's where you make it." The stores offer a coffee card which provides customers with a free coffee for every five they buy. "We also have a slush card, and that targets a lot of families who come into this neighbourhood for activities at the park," Allan says. Centralized promotions, including monthly deals and seasonal offers, also help drive sales.

Product selection varies at each location as does the hot food program, Gjevre says. One of our sites has a lot of industrial around it, and so it does a fabulous lunch business. We've sold 1,800 hot dogs in a week there."

Rewards of belonging

"You don't have to be a member to shop Co-op, but it pays to join," is how the company explains its approach. For a one-time investment of $10, member-owners share in the profits of the organization. Purchases are recorded each time they use their member number and, at the end of each year, they're entitled to a share in the profits based on their purchases.


What continues is a commitment to community. "There's a sense of pride that ripples right through the organization and the members feel it, too," Anderson says. "Th
ey know that when they spend their money in our locations that they are helping to employ local people, and the profits stay right here in the community. They can see the good it is doing."

Deep roots into the communities it serves also helps with recruitment and retention. "People who come to work with us like feeling good about where they work," he says. "That's true of our younger workers and also our older workers, and we're seeing more people in their 50s and 60s coming to work for us. They love the flexibility."

Snapshot



Mid Island Co-op, headquarters in Nanaimo, BC


Founded in 1959, now more than 57,000 members


15 gas bars/convenience stores, 7 commercial cardlocks, 2 liquor stores


Number of employees: 175


Members pay $10 to join


Top sellers: coffee, salty snacks, packaged beverages, sweet treats


Top draws: friendly service, modern locations, loyalty rewards



Mid Island Co-op's top tips



Support your community and it will support you back.


Greet your customers with friendliness and appreciation.


Modernize your operations to ensure locations are clean and bright.


Promote your loyalty cards to encourage repeat visits.


Ensure top flexibility for hours to attract and keep your best workers.