Michigan tells Enbridge to close Line 5
Job losses and massive refinery shortages could result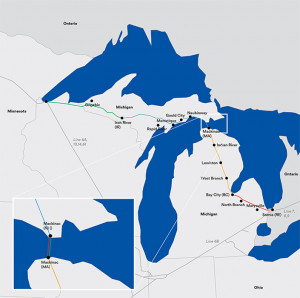 Michigan continues to increase the heat on the Canadian refining sector with its push to shut down Enbridge's Line 5 pipeline by May 2021. Michigan Governor Gretchen Whitmer has served Enbridge with notice the state is cancelling a longstanding easement that allows its Line 5 pipeline to cross the Straits of Mackinac through the Great Lakes. Line 5 runs from Western Canada to Michigan and into Ontario, where it meets up with refineries and petrochemical plants.
At issue is the reliability of the decades-old line which runs under the Great Lakes at the Strait of Mackinac. Enbridge plans to replace the existing lake bottom portion of Line 5 with a new line through a tunnel beneath the lake bed. Enbridge suggests that work would reduce the risk of a spill. Opponents dispute the safety of both the old pipeline and the new engineering proposal.
Sarnia Mayor Michael Bradley has written to Prime Minister Justin Trudeau to express concerns. He writes that Michigan's decision to cancel the easement for Line 5 goes against the terms of the Transit Pipelines Treaty, a treaty that was supported by incoming US president Joe Biden and negotiated by former PM Pierre Trudeau and then US president Jimmy Carter.
The cancelled easement would result in a shortage of 52.9 million litres of gasoline per day and other transportation fuels in Ontario, Quebec, Wisconsin, Indiana, Ohio and Pennsylvania. According to Bradley, ten regional refineries could be impacted and job loss would be significant with thousands of positions impacted.
Altogether six refineries in Ontario and the U.S. Midwest, as well as plants in Quebec, rely on Line 5 for crude inputs. In addition to providing more than half of the heating fuels to Michigan, Line 5 also supplies all of the fuel to Toronto Pearson International Airport and much of the fuel to Detroit Metropolitan Wayne County Airport.
Enbridge has said in a prepared statement that they have no intention of shutting down the line and sees the Michigan move as being based on unspecified allegations.