MPP asks province to recognize Convenience Store Week
MPP Stan Cho (Willowdale) announced his plans to introduce a Private Member's Bill (PMB) to designate the week before Labour Day as Convenience Store Week in Ontario.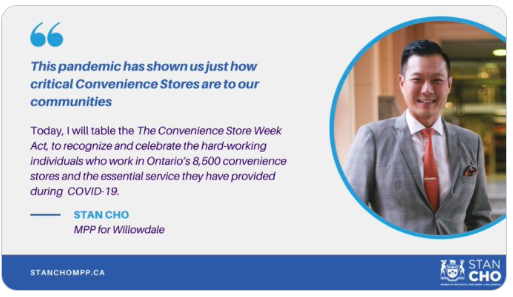 The OCSA, OKBA and CICC were on hand for an online press conference announcing Cho's private members bill.

"There are 8,500 convenience stores operating across Ontario - providing essential services throughout the COVID-19 pandemic," Cho said on Twitter on March 10, 2021.



"COVID-19 has underscored the essential and convenient role of our stores. During the pandemic, our employees have worked around the clock to ensure Ontarians have access to daily necessities and goods. This posed both challenges and costs to our businesses, but we stepped up to the plate," Anne Kothawala, president and CEO of CICC said a statement thanking Cho for his efforts. "It is important for CICC to celebrate Ontario's convenience industry and we are extremely grateful to MPP Cho and his team who made this a reality. Today's announcement validates the hard work and dedication of everyone in the channel – from the owner/operators to our employees – who serve the people of Ontario.

While c-stores and gas stations have remained open as essential services, it's hardly been business as usual. Sales and foot traffic are down, while operating costs are up. The industry is looking for ways to reduced overhead costs, such as credit card fees, and expanding product offerings, including the sale of beer and wine.

The timing of the proposed Convenience Store Week aligns with the industry's annual, end-of-summer charitable events, which raise money for children's charities.

"It is a honour for our industry to garner this type of recognition and Ontario is the only government to hold our industry in a higher esteem," said OCSA president Dave Bryans. "The Bill has gone through second reading and could be a reality prior to June of this year. I appreciate  the participation of the retailers who have supported this initiative and look forward to growing the charitable cause going forward."