03/08/2021
Natural Resources Minister speaks about Line 5
O'Regan suggests Pipeline Act may be invoked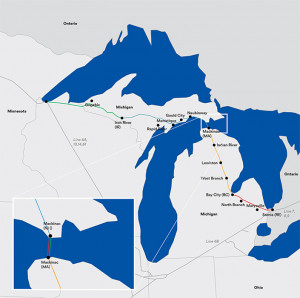 Enbridge's Line 5 continues to challenge legislators on both sides of the border. Line 5 carries 540,000 barrels per day of oil or natural gas liquids from Edmonton to Sarnia where operations refine it into gasoline, diesel and aviation fuel or propane. Line 5 supplies 45% of Ontario's energy needs, including 100% of the aviation fuel for Pearson International Airport. The current challenge is that the line travels under Lake Michigan and is viewed by some, such as the Michigan State Governor, Gretchen Whitmer,  as an environmental hazard. Whitmer announced in November that she would be cancelling the permit as of May 13, 2021. 
Last week, a special House of Commons committee on the relationship between Canada and the United States learned that the federal government would be prepared to invoke the 1977 Pipelines Act, which is meant to ensure a free flow of oil between the US and Canada.
"We are fighting for Line 5 on every front. We are confident in that fight," Minister of Natural Resources, Seamus O'Regan told the committee. "We are fighting on a diplomatic front, and we are preparing to invoke whatever measures we need to make sure that Line 5 remains operational. The operation of Line 5 is non-negotiable. Line 5 is a safe pipeline. It has always been a safe pipeline. And, the owner is taking further measures to make sure it has continued safe operation."
Enbridge has plans to route the line through a tunnel under the lake bed to satisfy environmental concerns. The line has been in service since 1953 without a leak. If Whitmer's bid to cancel the pipeline is successful oil and gas would have to be shipped via rail tanker and barge, two methods that come with considerably higher leak risks.