OLG shares best practices for lottery sales during COVID-19 pandemic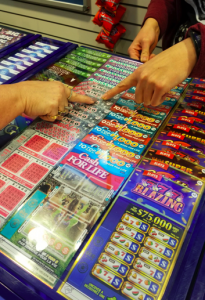 The Ontario Lottery and Gaming Corporation today released a directive of best practices design to reduce risk and help prevent the spread of COVID-19.

In it, the OLG said: "We support all our retail partners and any decisions that they make about their business during this evolving situation. We thank you for your continued partnership."

Minimize contact



Please follow your store's current policies regarding best practices for physically handling any product.


To avoid contact, ask customers to point to the INSTANT ticket they want.


Have your customers use the Ticket Checker to check their tickets.


Have customers pay with tap when possible at locations equipped to take tap.


Tell customers to download the OLG Lottery App as a way to check their tickets from home.


Try to promote Advance Play.


Encourage customers to sign tickets before coming to the store (so they do not have to use in-store pens).



 Disinfect



Keep disinfectant close by and regularly sanitize your Silent Sellers, Playstands and any pens at the cash area or Playstand that are used by customers.


Wash your hands as often as possible.



Stay informed



Pay attention to OLG lottery terminal messages and pop-ups.


Pay attention to public health authorities.





In addition, the OLG Prize Centre at Yonge and Dundas Street in Toronto is temporarily closed.

During this closure, please advise winners:



Customers can continue to redeem lottery prizes of up to $999.90 at any one of the 10,000 lottery retail outlets provincewide. The payment of these prizes is subject to the availability of cash at specific outlets


Customers can continue to mail their prize claims of up to $9,999.90, following the instructions on OLG.ca or by calling the OLG Support Centre at 1-800-387-0098


Lottery prizes of $10,000 or more may be redeemed once the Prize Centre is re-opened. In the meantime, OLG is assuring customers that all lottery prizes will be redeemed per their terms and conditions on OLG.ca. The organization is looking at extending the 12-month time period for the redemption of lottery products sold through lottery terminals and PlayOLG.ca; Details to come. The extension would also apply to INSTANT tickets.