Open to the public
County Chevrolet invests in a new car wash to serve its dealership cars and its community.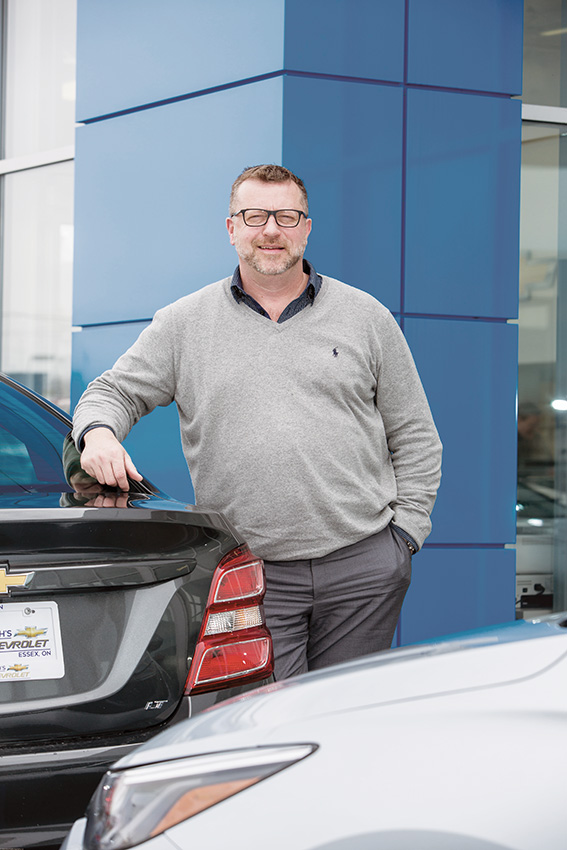 This Chevrolet car dealership has been a staple in Essex, ON since the 1970s. Jeff Smith, who was a partner for the last decade, recently took over the business and renamed the dealership Jeff Smith's County Chevrolet to demonstrate the focus on the community it serves. That's why, when he decided to invest in a state-of-the-art car wash for the dealership last year, he did so with his community members in mind.

When Smith was researching equipment, his initial need was to clean dealership cars, but he began to realize that the area he was in didn't have a commercial car wash. He decided to set up his wash to also serve the public, and in doing so, he created a new profit centre.

The process to introduce the car wash felt natural, he says. He did some research and asked around about adding a car wash to an existing dealership, and the only downside that came up was an increase in traffic. "If that's the biggest problem I've got, then I'm in pretty good shape," he says.

For Smith, a car wash is becoming a dealership necessity. "Car washes at dealerships have got to be one of the fastest growing segments in the car wash industry. This is becoming really important for dealerships," he says. Here's how he made it happen.

Going for it

In order to get it right, Smith did his research. He checked out just about every car wash manufacturer out there, but ended up going with Wash Tech for a few reasons, he says, explaining that he wanted the best wash for the footprint of the site. Local representation was also very important to him, which Wash Tech had. If something went wrong, he knew he could count on his nearby Wash Tech rep to fix it.

"It's not a problem until it's a problem and then it's a big problem, so I wanted to go with a company that had local representatives and people on the ground here," says Smith.

Don Loder, Wash Tech owner, agrees that this matters. "When a potential customer is looking at installing new equipment, as in Jeff's case, they look at the equipment as well as the potential for service. As Wash Tech has representation in Windsor area, this was a primary factor in his decision to purchase from us," says Loder.

Smith got to work on the renovations in March 2016 and the car wash opened in December 2016.

The setup

"I'm a car dealer, so I go after quality and a little flash. I went with the very best I could, and the goal was the cleanest car possible. I'm in the car dealership business so that needs to be priority," says Smith. In preparation for the addition of the car wash, the dealership site was renovated and expanded. They added in a Quick Lube service and the Oasis i5 high-pressure rinse system and tri-foam. He admits, he went all out. But for him, a clean car is worth the investment.

The i5 Soft Touch Hybrid equipment is fast and reliable equipment with consistent results, says Loder. "It provides a quality wash every time and w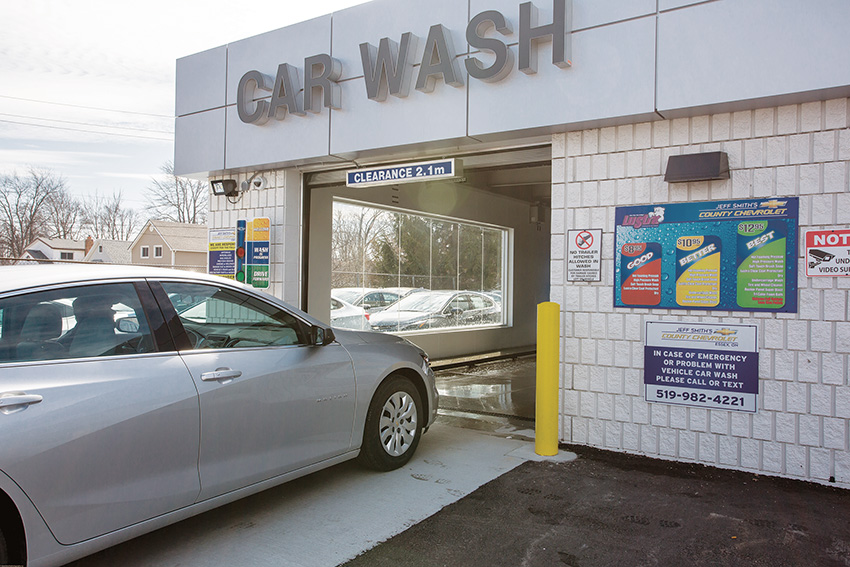 ashes vehicles of all sizes quickly and efficiently."

"The ICS Sentry Pay Station provides the ability for Jeff's staff, as well as customers, to activate the wash," says Loder. The unit was set up to accept credit cards, Canadian debit cards, gift cards, and fleet cards.

Dual purpose

"We were very excited to work with Jeff on this project. Jeff's vision for his car wash was to provide two separate services. The first, being the washing of his dealership cars and service customer vehicles, and the second was to provide a car wash open to the public. This makes perfect sense for any dealership," says Loder.

"Many dealerships are looking at providing a car wash to their service customers as a perk to keeping the service of that customer. However, most dealerships look at this equipment as a cost centre rather than a profit centre. By combining the two, Jeff has virtually eliminated the cost of cleaning his dealer cars, and has created a profit centre in doing so. It's a win-win for the dealership," explains Loder.

So far, so good, says Smith. "We've been very busy. People have been very happy with the wash so far."

In terms of site access, it's ideal, and doesn't get in the way of the dealership. Car wash users can enter the site and go directly into the wash tunnel, and once they exit the tunnel, they have an exit to the street right there. But Smith doesn't mind – he likes his site to be busy and bustling. He's happy with the increased traffic on his site.

"Hustle and bustle is good," says Smith. "If you look at the dealership now, it looks like the car wash has always been there."

Quick tips



Look beyond your current offer. How can you introduce a new profit centre that will complement your current offer?


Do your research. Shop around for your equipment supplier. With all of the options out there, there's no need to settle for a company that doesn't suit your needs.


Think of future needs. Ensure you'll have access to technical support and expertise down the road. A local representative will be important for future support and service.