Attila Szanyi takes convenience to a gourmet level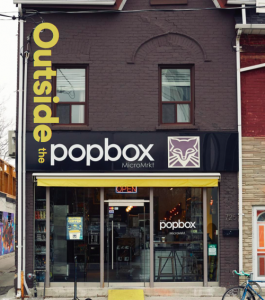 Ask Attila Szanyi what PopBox Micro Market, his chic 800-sq. ft. store in west Toronto, does to set it apart, and he'll say it's about thinking outside the box. "I like to take a chance on doing things differently, trying new things, fully embracing change," says the 44-year-old genial owner with a ready smile. Knowing that his neighbourhood, called Bloorcourt Village, is among the most ethnically diverse in Toronto, currently undergoing gentrification from century-old Victorian homes to contemporary townhouses, Szanyi has decided to skip the convenience shop smokes and candy staples, opting instead to scoop out gourmet gelato, stock healthy wraps, functional Kombucha drinks, and artisanal breads and indulgent pastries. "There are plenty of traditional convenience stores in this area, so our vision has always been to give customers a unique shopping experience," he says.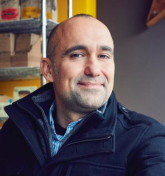 With its location near one the busiest Bloorcourt intersections, there's drive-by traffic galore to eyeball his roadside sandwich boards with graphics of creamy coffees and tony teas. But most PopBox patrons are locals. "This is a bikes and yoga community," asserts Szanyi, noting that women ages 30-45 make up two-thirds of his repeat customers, many of whom are vegans and fans of gluten-free fare. "They're health- conscious, affluent, on the go, and open to trying new kinds of products."

One of his hottest items is icy cold. He's recently brought in the Toronto-based Death in Venice line of gelato flavours, including Sour Cherry, Turkish Coffee, Ricotta Rosemary and Blueberry Lavender. "It's a good fit since we are also a sit-down café," explains Szanyi. Fresh brewed coffees, including traditional blends as well as intriguing varieties like Tumeric Revival, Matcha Latte, and Café Mocha (with cocoa, espresso, coconut whip and cinnamon).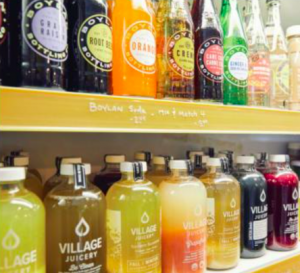 A big draw at PopBox is its racks of cold press juices, sourced locally from the Village Juicery. "It's organic and full of beneficial ingredients," enthuses Szanyi. The "Be Well Juice" contains kale, celery, green granny apple, parsley and others; "Be Nourished" includes gala apple, kale, cucumber and swiss chard; and "Be Radiant" offers carrot, sweet potato, lemon, fresh turmeric root, and more. There's also the organic beverage Kombucha supplied by Rise in Montreal, heralding restorative benefits in its top flavours like Ginger; Mint and Chlorophyll; Lemongrass; and Hibiscus and Rosehips.   

Climate-controlled coolers are filled with gastronomic frozen dinners, meat pies (such as pulled pork, butter chicken, and chicken, cheddar and bacon mash), and a line of hand-made wraps, including fresh Turkey Chorizo & Egg Breakfast Wrap and Almond Thai Chicken Wrap, prepared by Foodbenders of Toronto.

There's also a slice of decadence newly introduced on the PopBox menu. Szanyi has inked a deal with The Cheesecake Factory, the U.S.-based pastry potentate, to carry some of its more popular delicacies, including wedges of white chocolate and raspberry cheesecake, Godiva Chocolate Cake, Blackout Cupcakes, and the Ultimate Red Velvet Cake (with cream cheese frosting). A sweet acquisition for the store's java junkies.\ according to the store owner.

Reinvention of the corner store

PopBox has continued to evolve since opening its doors in 2015, bringing on board many features that have clicked with customers, and disposed of those that didn't. Szanyi points out that his vision for PopBox is nothing less than the reinvention of the corner store. "I like making ideas come to life," he enthuses, adding that testing those ideas on a daily stream of customers who walk into his store allows him (and his staff of eight) to turn on a dime to the ever-changing whims of the upmarket crowd. "It's a constant process of trial-and error through a commitment to innovation," he says.

And to ensure PopBox remains top-of-mind to Bloorcourt Villagers with a taste for the one-of-a-kind, Szanyi – who knows the importance of branding from his days as a design pro in the food and beverage industry – has created a logo depicting a stylized yellow fox that he says is elegant for its visual simplicity. As for the store's name, he says it was chosen because it's easy to remember and simple to say.

PopBox Micro Market has made its mark in the community. "At this point I think we've brought something to life," says Szanyi with pride. "And in the context of a business, to create one with real lasting power, is a significant accomplishment."     

Attila's tips for successful convenience


Strive to be original

by offering innovative products.



Change the product mix

occasionally to keep your customers interested in coming back.



Use good design and constant cleanliness

to create perceived value for your product (i.e. increased margins)



Try to anticipate the needs of your customers

before they even have a chance to articulate it.



Treat your employees as invested members

of the team. The commitment you get from them in return is your greatest operational asset.



Snapshot

Product mix: a thoughtful and funky blend of the basics with carefully curated gourmet lines, many of them sourced local.

Pricing: premium products = premium pricing. Owner Attila Szanyi is looking to compete on innovation, not price.

Vegan: PopBox features a number of vegan lines to appeal to a very health-conscious clientele, including vegan "butcher" lines.