05/24/2019
Parkland performs
Acquisitions and initiatives driving big gains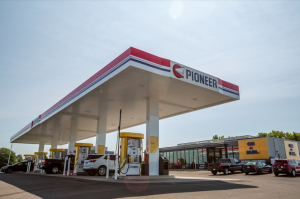 Calgary-based Parkland Fuel Corporation has become one of North America's fastest growing independent marketers of fuel and petroleum products by focusing on enhancing the customer experience and expanding internationally.

Parkland has an honest Alberta pedigree and a firm foothold in Canada's oil patch. The company started out as a cattle operation in Red Deer before morphing into a fuel leviathan with some 1,850 retail sites that include brands such as FasGas, UltraMar, Pioneer, and Chevron as well as RaceTrac in the U.S. The company's current format was launched in 2010 when it moved its headquarters to Calgary and renamed itself Parkland Fuel Corporation.

Today, Parkland delivers gasoline, diesel, propane, lubricants, heating oil and other high-quality petroleum products to motorists, businesses, households and wholesale customers in Canada and the United States. It is also a leading operator of convenience stores with banners such as On The Run.

"Parkland continues to deliver strong performance across the enterprise," says company president and chief executive officer Bob Espey, reporting a standout fourth quarter with the company reporting net earnings of $77 million up from $49 million in Q4 of 2017. Net earnings grew from $82 million in 2017 to $206 million in 2018. On a full-year basis, fuel and petroleum product volume was 17.0 billion litres, up 27 per cent year over year, driven primarily by incremental business from acquisitions.

 

Coming to customers with greater choice



According to Ian White, Parkland's vice president of strategic marketing & innovation, their growth and increased scale allow for improved capabilities. "However, local brands will continue to play an important role and we will remain connected to the communities with local leadership and retail operators. Building new sites and retrofitting existing sites is a core part of our strategy. On The Run (OTR) will be associated with all Parkland forecourt brands with the goal of 1,000 OTR locations across Canada," he says.

"Over the years, meaningful, exclusive local fuel brands such as Ultramar, Pioneer and Chevron have been added to the Parkland family," he adds. "This past November, we partnered with mobile fueling company Filld and launched this service in Vancouver to offer even greater choice to customers where they can come to our stations or we can come to them at their business or homes. We intend to extend this service across major markets in Canada."

Parkland reports the collaboration and official launch of Filld's service in Vancouver came on the heels of Parkland's co-leading a $15 million investment into Filld's Series B preferred shares. As part of its investment in Filld, Parkland will be the exclusive supplier of fuel to Filld in Canada, and a preferred supplier of fuel to Filld in the United States.

Filld was founded in 2015 as a flexible, safe, scalable last mile infrastructure company that delivered fuel to customers' vehicles in the San Francisco Area and Washington, D.C. Under the Parkland partnership, Filld will expand its mobile fuelling services to  Canadian communities throughout 2019 beginning with fleet services, then expanding to offer consumer service once operational efficiency and sufficient density are achieved.

The Filld program is an example of the proprietary enterprise loyalty program that is currently in pilot, which will include the Parkland ecosystem of brands, products and services working together. "We see this as an important competitive differentiator for (Parkland Fuel) as we move toward a relevant, personalized experience for our customers. Parkland is committed to offering customers choice when interacting with our market-leading brands across the country. As the operator of the Chevron stations in British Columbia, this innovative fuel delivery solution allows customers the opportunity to have quality fuel delivered to them in a safe and reliable manner in addition to filling up at one of our locations," says White.

 

Expansion, meaningful acquisition and development initiatives driving gains

Last year Parkland retrofitted 78 existing On the Run/Marché Express locations and constructed 12 flagship sites.

With an eye to capturing three to five per cent annual retail growth, Parkland will invest in new locations, new dealer growth, private label, their loyalty program, and enhancing the customer experience through the On The Run rollout. On the commercial side, the company said it will leverage the Pipeline brand to create a national cardlock network and invest in trucking and routing optimization technologies.

"Our development initiatives will see the brand rolled out across our Canadian network in the coming years," adds White. "In 2018, we expanded our private label brand, '59th Street Food Co.,' and are now offering 20 products at select Parkland locations. We are planning to launch an additional 20 private label products in 2019. In addition, we are currently testing our 'Journie' loyalty program in two Canadian markets, and expect to expand the program across our network in 2019.

"Ongoing optimization of our commercial brand portfolio in various geographies has seen certain legacy operations, particularly in Eastern Canada, successfully rebranded to Ultramar. This enables Parkland to drive future growth and sustained profitability under one aligned customer value proposition.

"Parkland has a track record of successful acquisition and is always assessing new opportunities," said White, mentioning their latest acquisition that Parkland hopes will broaden its import and export capabilities and expand distribution and supply points.

In January, Parkland announced the closing of its purchase of 75 per cent of the shares of Sol Investments Limited, which is the largest independent marketer and supplier of petroleum products in the Caribbean, operating in 23 jurisdictions.

"The opportunity to expand to a new geography and market through a strong business platform like Sol is an exciting time for Parkland. The assets and infrastructure we have acquired are proven, well known, and will enable Parkland to extend its supply advantage into a new region," concludes CEO Espey, who is upbeat about Parkland's opportunities for continued growth and market gains.

Originally published in the May/June issue of Octane.