01/19/2021
Parkland ups the ante with foodservice and grocery
Goal is to enhance customer offer

This past September, Parkland Corporation (Parkland) announced it had acquired the license for the exclusive use of the On the Run (OTR) trademark in the majority of U.S. states from Alimentation Couche-Tard. This acquisition signifies a continued drive to expand its North American presence in fuel distribution and convenience retail. The deal gives Parkland a clear path to creating a unified brand in its c-store offering. It will also help drive sales increases at fuel dispensers and car wash sites. 

[caption id="attachment_27917" align="aligncenter" width="633"]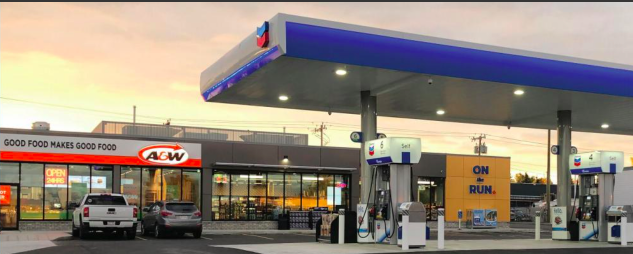 Photo: Ken Born[/caption]

Parkland Corporation is a fully diversified fuel supplier with a refinery to end-user distribution capability that has made it an industry leader with sites that extend from the Arctic to French Guiana in South America. The company sold 22 billion litres of gasoline in 2019 under 19 brands that it either owns outright or holds the right to utilize the name. These include consumer marquees such as Fas Gas Plus, RaceTrac, Pioneer, Ultramar and Chevron. Altogether, at the end of 2019, Parkland was present in 1,863 sites in Canada where the company owns 641 locations with dealers holding the remaining 1220. In the U.S., Parkland operates 58 c-stores and has 297 dealers. When combined with its supply and marketing activities, Parkland's business spans 27 states. In the Caribbean, Parkland owns 75% of Sol, a company that distributes 4.3 billion litres of fuel to 23 countries at 496 retail sites under brands such as Esso, Shell and Sol.   

[caption id="attachment_25596" align="alignright" width="300"]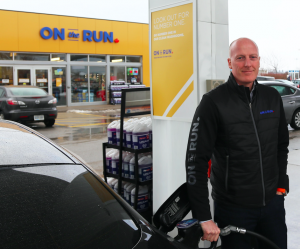 Ian White, Parkland[/caption]

According to Ian White, Parkland's SVP strategic marketing and innovation, the U.S. OTR deal is one that helps them develop a 'super-brand' across borders and follows up on the 2016 purchase of CST Brands and their Canadian On the Run sites. "We have around 300 On the Run/Marché Express*(*Quebec locations) sites in Canada that are either company-owned or franchised. Our ambition is to have 1,000 sites by developing the dealer network as well as company-owned groups of stores," he says, mentioning that the current initiative spearheaded by the OTR US acquisition will see changes from the forecourt to c-store. "This will include an increase in scale and assortment of products, greater emphasis on loyalty rewards, and mobile commerce."

Parkland recently retrofitted 78 existing On the Run/Marché Express locations and constructed 12 flagship sites. To support their 3% to 5% annual organic growth target, Parkland will invest in new locations, new dealer growth, private label, their loyalty program, and enhancing the customer experience through the On The Run roll-out.

According to Parkland president and CEO Bob Espey, through the COVID-19 pandemic, the company has demonstrated its resilience with strong financial and operating performance and robust same-store sales growth across its convenience business. "Our performance during the worst of the downturn will allow the company to revive growth plans that it had paused during the early weeks of the pandemic - including numerous $1 million to $5 million projects, such as adding new gas stations or sites for commercial customers," he says.



The company expects to go live with new store designs and features in 2021. Important is that Parkland will be able to leverage the scale of the OTR c-store offering and port it into the U.S. where they already have about 60 retail outlets attached to fuelling sites.  "Our biggest challenge will be to progress rapidly by meeting customer expectations," says White, noting that with consumers more willing than ever to try new brands Parkland sees this as an ample opportunity to gain share in the massive U.S. market.

White reports that their recent loyalty program introduction is attractive to customers and helps them create a strong data platform as well as personal relationships that will build the business at both forecourt and c-store. The JOURNIE Reward Program launched last October and by the second quarter (2021) the Canadian national roll-out had been completed. Parkland partnered with banker CIBC to offer connectivity between their customers and CIBC's credit and debit card clients. As well, Parkland launched a JOURNIE mobile app available for anyone to download on iOS and Android platforms. 

"In addition to enhancing our JOURNIE value proposition, our partnership with CIBC supports our strategy to grow our fuel sales volumes and increase foot traffic in our convenience stores," says White. He notes that under the CIBC program, clients who use their payment cards receive 0.3 cents off per litre of diesel or gasoline as well as 3X loyalty points that can be used to purchase goods and services. Those without a CIBC card still get 2 points for every dollar spent in c-store and car wash and a point for every litre pumped. 

Parkland's strategy is to address the needs of the customer at the point of decision. "There are three key customer intercepts for us; customers at the pumps, customers in their cars and customers with mobile devices. We want to offer strong messaging and value equation at the point of sale to enhance the overall experience our customers enjoy each time they drop by a location."

Foodservice is another key feature of Parkland's customer-focused retail strategy and OTR initiative. Many of Parkland's fuel sites feature quality restaurant offerings, which gives customers greater choice, flexibility and convenience.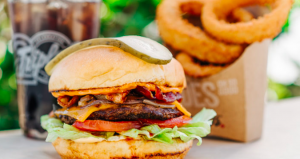 Last February Parkland announced an enhanced relationship with Triple O's, a BC-based restaurant chain operated by White Spot Hospitality that is both well known and appreciated by its patrons.  

"Our goal was to further strengthen our offer in foodservice," says White. He reports that the Triple O's partnership will create opportunities in all dayparts and help make Parkland locations destinations for more than just fuel or a car wash. Triple O's and Parkland started working together in the BC market at first and then branched into Alberta and into Ontario where they are currently launching test sites. "We will look at the U.S. market for Triple O's and will decide once we complete our assessment."

Another important part of Parkland's initiative is the launch of its private-label brands. In 2017, Parkland launched 59th Street Food Company, a private label entry that now offers close to 50 products in its assortment.   

Altogether, Parkland is creating a stronger value equation for its customers, greater definition for its sites thanks to unique offerings, and convenience. In Canada a Parkland brand is only 15 minutes from most homes, making it one of the country's leaders among both c-store and fuel retail. 

The pandemic may have permanently altered some consumers' shopping habits in favour of smaller locations, he said. "In our formats, it's easy to access. You can see into the site from the outside and you can see the number of people. If somebody needs to run in quickly and grab something, they feel much safer doing that than potentially going into a larger-format retail site," says Espey.

White concurs, echoing that COVID-19 has indeed had an impact on how consumers approach retail. Having a convenience retailer that is close to home, stocked with value-laden products that meet consumer demands and offer the quality customers expect is all part of the plan.

Originally published in the November/December issue of OCTANE.