Payment technology
The way your customers pay for car washes is evolving. From EMV to mobile apps, success means adapting to these changes in the name of marketing, loyalty and an improved customer experience.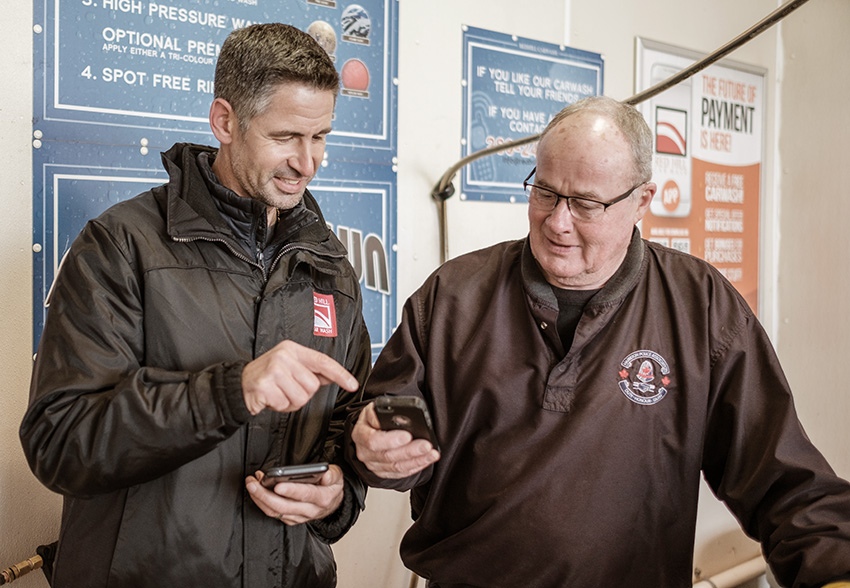 JJ Woodley is in a unique position when it comes to understanding the evolution of payment technology in the car wash industry: he owns Red Hill Car Wash in Hamilton, ON, and he's one of the owners of Tech1st Wash Systems.

Tech1st's mobile app, CoinPay, was introduced at Red Hill Car Wash in August 2016. It was integrated within all self-serve wash bays, vacuums, and vending machines. The Tech1st mobile payment system runs parallel to Red Hill Car Wash's existing methods of accepting coins and credit cards with their EXACTA system.

For Woodley it's a valuable marketing tool that allows them to build loyal connections with their customers.

"It's easy to set up, schedule, and run promotions with the new system, which provides rewards to our customers for using our facility. We've had an excellent response on ou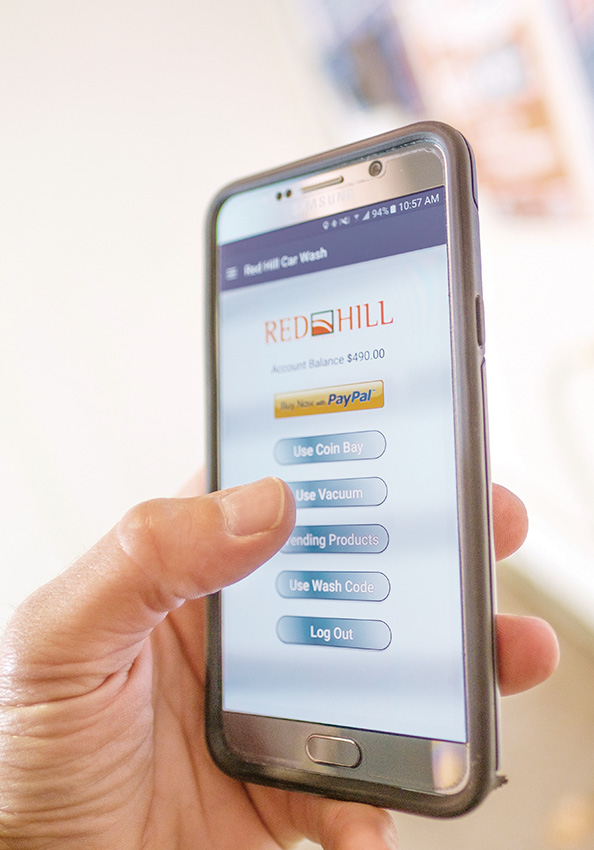 r Facebook page about these rewards, which in turn has promoted the mobile system to new users who are hungry to use their phones for everything. It's a very effective positive marketing feedback loop," he says.

Although it's too early to draw any conclusions from the data, Woodley confirms 330 registered users have downloaded the app to their mobile devices. In addition to the consumer engagement, CoinPay was installed at four new sites in southern Ontario by the end of 2016.

Simply put, CoinPay is a marketing tool, says Woodley. It's designed to make the customer experience as simple as possible, while also allowing the operator to provide incentives to return to the car wash the next time to use CoinPay.

"Mobile payment solutions are making their way into all areas of retail," says Woodley. "Establishing a solid app user base now, as an early adopter of this technology, creates a differentiating advantage within your market."

Mike Black, co-owner of Valet Car Wash, agrees. He introduced a mobile payment system from WashCard Systems at one of his sites this past summer.

Customers simply scan a QR code in the bay, which takes them to a webpage designed for mobile phones. "It's very easy to navigate and the customer only has to fill in a couple prompts, like their credit card info and which wash package they want to purchase. Each bay has its own QR code so the systems knows which bay you're in," he adds.

There are a lot of payment technology options out there for operators. Here's a rundown (in alphabetical order) of some of the industry's payment system leaders, and the trends they're seeing in the world of car wash payments:

CarWash Finder:

"Our CarWash Finder mobile application (available on Apple or Android) allows the customer to find a wash, pay for the wash package, and activate the wash all from their mobile device," says Kirsten Potvin, Business Development and Mobile Solutions Specialist, CarWash Finder.

The mobile app has a number of operator benefits, including eliminating the need for expensive hardware upgrades; the app can work with any pay station or with an attendant location; operators have access to data where they can target their customers with promotions; and it can be private labelled to display a company's logo and colours.

For the customer, CarWash Finder allows them to accumulate points towards a free wash; purchase a wash from anywhere and store it within the app until they redeem it; credit card information is uploaded in the app so there's no need to have your wallet on you, and finally, the app allows customers to avoid in-store lineups.

Exact One:

"Our integrated systems allow car wash operators to accept cash and credit card payments at all aspects of their operations," says Doug Garratt of Exact One. "Operators can see up to a 60% lift in revenue simply by upgrading their equipment to accept credit cards. Our credit card processing system allows the car wash owner to choose their preferred payment processor."

Exact One is working with its payment partners to bring EMV technology to the car wash market. They will be adding Interac debit transactions to their entire line of products in 2017, and this will include the ability to take debit and credit transactions in bay.

The future of car wash is to convert many operations to a completely cashless solution, says Garratt.

Hamilton Manufacturing:

"By automating the payment portion of the wash business, you are eliminating mistakes that we as humans all make. Our pay stations streamline the transaction, offering the customer a quick and efficient method for selecting and paying for a wash," says Tim Morgan, sales rep with Hamilton Manufacturing.

Some of the more exciting trends Morgan sees for this industry are the shifts happening in payment methods. "We are all aware of the ever-evolving changes in credit and debit card processing, but mobile transactions are becoming increasingly more common in North America. "We anticipate that a significant number of consumers will switch from conventional payments to phone-based payments at pay stations in the coming years," he says.

"We are also seeing a trend towards cloud-based data storage. Components like financial data, wash reports and loyalty modules no longer have to be just local to the pay station itself. Cloud-based solutions can also offer the operator the ability to customize their data in a way that works best for them. It really expands the whole notion of remote management for your business."

Innovative Control Systems (ICS):

"Our payment terminals feature touch screen technology, impactful graphics and instructional streaming videos, which simplify the purchasing process, improve customer throughput, and provide an easy way to offer upgrades to car wash customers," says ICS's Jason Sears.

ICS offers two payment terminals: the Auto Sentry Flex that receives and dispenses cash as well as handling EMV transactions; and the Auto Sentry Petro, which is cashless, handling EMV transactions and wash codes only. The latter is primarily used in fuel/convenience store sites.

Keep an eye out for ICS's electronic point of sale (ePOS) system that will enable car wash operators to sell washes, gift cards and even wash clubs directly from their existing websites.

 PDQ:

"EMV is a big deal in the US market right now, so we've been going down that path. We have certified with two different EMV providers so we're giving some options to our end users and our operators in the field," says Brian Garavaglia, Business Development Manager, PDQ Manufacturing.

PDQ is also working on a phone app, he says. "We're going to let your phone and the app connect via Bluetooth to the Access Pay Station, and then your car wash customers can use the loyalty app right on their phone to buy and redeem washes. Wash users won't even need to roll down their window to interact with the pay station," he says.

The loyalty club allows operators to sell fundraiser accounts, fleet accounts, loyalty club accounts, and they can do subscriptions with unlimited automatic recurring billing. "It also gives wash operators the ability to have their own e-commerce website to sell washes through the web. There's a lot of flexibility and a lot of marketing potential that can be done with the loyalty club. The premier product we're able to offer to our operators in the field is a very low cost solution that will drive their revenues up," he says.

WashCard Systems:

"WashCard has developed more than just a payment system. It's a full set of hardware, software and loyalty marketing services available to our customers. We also ensure the security of every credit card payment by having our systems PCI Validated to PA-DSS v3.1 standards," says Craig Kjorlien of WashCard Systems.

Kjorlien says they're seeing a rise in the need for loyalty programs. Operators wanting to tap into the lucrative business model of offering a variety of programs to local businesses to wash and manage everything from large fleets to small groups using the automated invoicing and payment software. This program that WashCard introduced decades ago continues to evolve and now, the Internet and automation make management a breeze.