Petroleum sector pledges support during COVID-19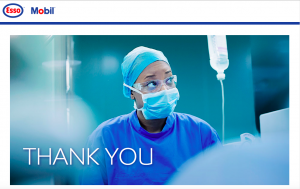 Imperial Oil is the latest major petroleum company to roll up its sleeves in the fight against COVID-19. Already, Shell is offering free sandwiches and beverages to essential workers during the pandemic. Now, Imperial is coming forward with initiatives to help support those on the front line and aid in the fight against the spread of the virus. 
The Calgary-based company reports that they will provide up to $2 million in free fuel vouchers to frontline nurses, paramedics and doctors as part of its Heroes Campaign launched in response to the COVID-19 pandemic. Through this promotion, Imperial is offering 80,000 digital vouchers, each worth $25, to healthcare workers currently providing critical care across Canada. Vouchers can be secured online on a first-come, first-served basis at www.healthcarehero.ca and are redeemable at more than 2,000 Esso and Mobil stations across Canada through the company's free Speedpass+ mobile payment app.
Imperial is also donating 60 tonnes of isopropyl alcohol (IPA) to be used in disinfectant products. IPA is an ingredient used in medical, health and pharmaceutical applications, such as hand sanitizer, medical wipes and rubbing alcohol. This donation will assist the production of more than 600,000, 350 ml bottles of hand sanitizer.
"We recognize the need is great and while many of us are isolating in the physical sense, I am proud of how our employees and neighbours have come together to donate critical supplies and funding where it is needed the most," says Imperial CEO Brad Corson.
In addition to helping to meet Canada's demand for IPA, Imperial has also supported the country's pandemic response efforts by donating hundreds of laptops to students and matching employee cash donations 2:1.
Imperial reports that their laptop initiative will support on-line learning with a donation of 500 laptops to help meet the demand for technology devices while classrooms remain closed. The program has Imperial working with the Electronic
Recycling Association's Lending Laptops Program in support of the Calgary Board of Education's EducationMatters campaign.
With community charities in greater need than ever, Imperial has teamed with its employees to help. Imperial increased its match dollars to $2 for every $1 given by an employee. This is for donations to community charities and not-for-profit organizations.   
"We owe so much gratitude to those on the front lines who are working long hours helping those in need," says Imperial's CEO. According to Corson, the company will continue to look for ways to support Canadians as we all manage through this challenging period.