Plain packaging 2.0: Challenges and solutions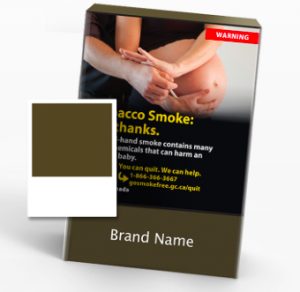 As the coronavirus reaffirms the value of convenience stores to communities across the country, those same stores are grappling with an unprecedented upheaval to one of their core channels business: plain packaging. On February 7th, plain packaging regulations—deemed the "best in the world" by the Canadian Cancer Society—came into full effect across Canada. 

C-store owners and their teams are looking for ways to make the transition from branded packaging smooth and seamless for both their business and their customers. Here are some suggestions to help address the biggest problems presented by plain packaging.

Challenge: Avoiding customer confusion

Solution: Information and insight

Tobacco smokers are traditionally brand loyal—and they instantly recognized their brand by its distinctive packaging. Those days are gone. Now all packages look the same, sporting a dull brown colour, specifically Pantone 448C. To add to the confusion, the names of some brands have changed, while others are gone for good. This results in confused customers who often don't know they have the wrong brand until they light up. 

"Some jurisdictions saw a huge impact and a lot of returns from customers. The increase in returns reflects an increase in frustration," says Markus Merrill, general manager Canada with Vend Data Media Solutions in Mississauga, Ont., adding this adds to the burden of c-store operators. "You have to spend more time managing that category."

Reducing frustration requires reducing the likelihood of mix-ups or delays caused by customer and employee uncertainty. "Staff need to be educated," stresses Sara Clarkson, president and CEO of Storesupport Canada Inc., a national sales and merchandising company, in Mississauga, Ont. 

Fortunately, help is at hand. Tobacco companies have stepped up to assist. In many cases, the companies have already experienced the transition to plain packaging in other countries and have identified issues and best practices. They also moved quickly and early to lend a hand to their c-store customers. Rothmans, Benson & Hedges, for example, updated the names in its ordering system months in advance and set up a website for consumers to find out what products would be affected. 

If you're struggling, reach out to your suppliers to tap into materials, programs and opportunities designed to help stores and employees adapt quickly and effectively to this new way of selling cigarettes.

Challenge: Reducing clerks' uncertainty

Solution: Training and technology 

Customers expect a seamless transition to plain packaging, and they're counting on c-stores to deliver. Extra effort will be required. "You need to know who your customers are. Know who your loyal customers are, and know their brands," says Clarkson. 

Staff will also need to know the current brand names, she adds. "Steer customers to a cigarette that is close to what they used to smoke. That is a new role for c-stores."

Tobacco companies can become an important partner. JTI-Macdonald Corp., for instance, organized information sessions and prepared communications materials to explain what's changing, why and what the alternatives are. The company also worked closely with c-stores to better understand their needs going forward, suggest storage solutions and ways to organize shelving so that clerks are able to more easily identify products when consumers ask for them. 

Find the system that works best for your store. Plain packages can be organized alphabetically, making it a little easier for clerks to reach out and select the correct product. Memorization will undoubtedly kick in. Or, you may want to use dedicated flaps to identify packages. Either way, stick with a system so employees get comfortable quickly. 

With change comes opportunity and technology is helping in the form of automated dispensing systems—high-tech vending machines that help clerks quickly and easily find what they're looking for.

For instance, Vend Data offers a smart dispensing system designed to overcome the challenges of plain packaging at the store level. There are more than 3,000 in market in Australia, which introduced plain packaging in 2012 and the numbers are quickly growing here in Canada. "It gets rid of the guessing," says Merrill. "You don't have to train employees how to sell tobacco…. Just press a button."

Montreal-based Artitalia Group, which creates custom fixtures and other retail design elements, has also created a vending system to dispense controlled products, such as tobacco. The Audimac is an automated distribution machine designed to simplify the tasks of clerks, produce faster transactions and reduce theft.

As the price of cigarettes rises, so too does their appeal to thieves. These automated systems, with secure metal containers that house tobacco packages, discourage burglars looking to make a fast and easy score.

Challenge: Managing inventory levels

Solution: Education and real-time data

Managing inventory levels is a major challenge in the wake of plain packaging. Verifying you have received the items you ordered and have enough on hand is significantly more difficult when all the products look alike. 

"It's not like cigarettes are on a shelf and you can see if the shelf is empty," says Clarkson. 

"You have to understand how inventory will change in the new environment," she adds. "Take advantage of any education program you can."

Technology can help. For instance, the new smart dispensing systems not only help clerks get the right products into the hands of customers, but also they're also programmed for ongoing and accurate inventory monitoring. 

Operators can access sales, out of stock and inventory data online or through an app. Custom reports can help operators track what's selling and what's not to better streamline offerings. 

"We're in real time capturing the data," says Merrill.  

As an added bonus, vending systems feature digital media advertising capabilities at POP, which can be used for in-store promotions, community outreach and to create additional revenue streams from vendor advertising.  

Originally published in the May/June issue of Convenience Store News Canada.