Pot luck: Selling cannabis accessories
When the Cannabis Act was passed in 2018, the stigma around pot use started to subside and opened up new doors for convenience stores to stock accessories for their customers and grab a slice of a robust market—once the domain of smoke, aka head, shops. 

It's a natural fit for convenience stores, according to Patrick Vandermeulen, retail advisor, Canadian Lumber, a Nova Scotia-based company selling rolling papers made without allergens, bleach and other chemicals."This is a great opportunity for c-stores. They've got the daily traffic," he explains. "You've got people popping in for gas, chips, pop, munchies… Consumers want to be able to walk to their local corner store and pick up rolling papers on a Saturday night. And they're looking for a place to buy them other than a government dispensary."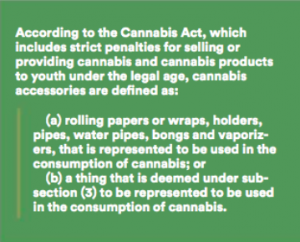 About half of Canadian Lumber's retail sales come via the convenience store channel. It's a strong market, but one that comes with challenges. Ottawa's Cannabis Act treats cannabis accessories similar to tobacco products. In most of Canada (some provinces have differing legislation), in a convenience store environment where minors can enter, the rolling papers, glassware and items needed for smoking the product cannot be displayed or promoted. Trays (for rolling ease), bags (for storing weed) and branded clothing fall into "a grey area," says Vandermeulen. In a non-age-gated setting, like a dispensary, those rules do not apply and product can be visible. For new companies selling accessories, federal and provincial regulations can be tricky to navigate and getting on a consumer's radar requires ingenuity. 

While Canadian Lumber uses social media and tradeshows to get their name out there, convenience store staff is key in its success. "Driving that education is the biggest way we have to drive brand awareness," says Vandermeulen. "We train them about the differences between types of rolling papers When we talk to convenience store operators, we're not only educating them about papers, not just Canadian Lumber. We're also educating them about the cannabis industry in general."

His hope is that when consumers come into a convenience store and ask for papers, the staff can ask, "Have you tried Canadian Lumber?" He says that some staff are very knowledgeable about cannabis accessories, while others have no knowledge whatsoever. Rolling paper sales alone are big business: In Ontario, for example, almost 80% of sales happen in convenience stores. 

Ontario's Big Bark began selling rolling papers just two years ago. Its aim was to produce something unique for the Canadian market. It has rice paper, 100% hemp and unrefined all-nature types, presented in a package with a patent-pending magnetic full closure to keep papers clean and tidy. It just introduced pre-rolled cones that appeal especially to millennials, who may have never mastered the art of rolling their own joints. "Just stuff 'em, pack 'em and smoke 'em," says Jim Sutton, managing partner, Big Bark. "I think the market is slowly switching over to pre-rolled cones. This will benefit convenience stores since they offer increased profit levels."

Moving forward, expect to see mash-ups in the business space. Convenience stores will take on some qualities of a smoke shop. Smoke shops will, in turn, start to offer snacks and chips, along with an ever-expanding range of cannabis accessories. 

More innovation is coming. As the first G7 country to make cannabis legal, Canada has become a leader for innovation in cannabis accessories. The market is already seeing things, like a new one-handed, vibrating rolling device and higher-end artisan-crafted products.

C-store operators can promote future sales through a better understanding of cannabis accessories and those who buy them better. Failure to do so means seeing potential revenue go up in smoke.

Originally published in the July/August issue of Convenience Store News Canada.