Product of the Year Canada unveils 2021 winners
 This year, 4,000 Canadian shoppers voted to determine the 27 winners of the 2021 Product of the Year Awards. Among the winners, several convenience store favourites.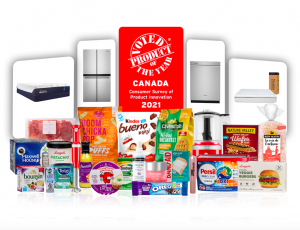 The program, which operates in 40 countries, recognizes manufacturers for quality and innovation in their function, design, packaging or ingredients.

In Canada and around the world, consumer shopping behaviour has rapidly shifted in the past year; the annual Product of the Year Awards are designed to provide a trusted resource to easily guide consumers to the best new products on the market.  

For obvious reasons, shoppers are spending less time in stores, but still crave new and innovative products to light up these difficult times, Mike Nolan, Global CEO of Product of the Year Management, said in a release. "Because of this, we are more excited than ever to announce the 2021 Product of the Year winners and help shoppers find that 'great new product' when it matters most, however they do their shopping this year.

"What makes Product of the Year so trusted is our unique process, which gives shoppers the confidence that each product with our iconic red logo is backed by 4,000 Canadians. That's a powerful advantage for our 2021 winners, as a Product of the Year Award positions them as THE innovative leader in their category."

This year's winning products reflect the trends and categories that everyday shoppers care about most as they spend more time at home. Selected through a nationally representative study powered by Kantar, a global consumer research company, the 27 winners of the 2021 Product of the Year Award include:

Beauty, Health & Wellness

BAND-AID BRAND SKIN-FLEX BANDAGES EXTRA LARGE, 7 COUNT
Johnson & Johnson

Bread

BON MATIN La mie de l'artisan Avoine
Bimbo Canada

Breakfast Food

ALL DAY BREAKFAST HASH BROWN WAFFLE BREAKFAST
Cavendish Farms

Chocolate – Bars

CADBURY DAIRY MILK OREO BAR 38 GRAMS
Mondelēz Canada

Chocolate – Minis

KINDER BUENO MINI
Ferrero Canada

Coffee – Single-Serve Coffee Pods

MAXWELL HOUSE 100% COMPOSTABLE SINGLE-SERVE COFFEE PODS
Kraft Heinz Canada

Dairy – Cheese

BOURSIN FIG & BALSAMIC
Fromageries Bel Canada

Deli Meat

LONGO'S CURATO ITALIAN ANTIPASTO PARTY PACK TRAY
Longo Brothers Fruit Markets

Dishwasher

Whirlpool Large Capacity Quiet Dishwasher with 3rd Rack
Whirlpool Canada

Dressings & Sauces

PANACHE TURMERIC & BLACK PEPPER DRESSING
Sobeys

Face Moisturizer

NEUTROGENA BRIGHT BOOST GEL CREAM
Johnson & Johnson

Frozen Dessert

LONGO'S PISTACHIO ICE CREAM
Longo Brothers Fruit Market

Gluten-Free

LONGO'S CHICKPEA VEGGIE BURGER
Longo Brothers Fruit Market

Household Product

VIM REFILL ECOPACK
Unilever

Kitchenware

KitchenAid 5 Cup Cordless Food Chopper
Whirlpool Canada

Lactose-Free

THE LAUCHING COW LACTOSE FREE
Fromageries Bel Canada

Large Appliance

Whirlpool 36″ 4-Door Counter Depth Refrigerator
Whirlpool Canada

Laundry Detergent

PERSIL OXI DISCS
Henkel Consumer Goods Canada

Mascara

AIR VOLUME MEGA MASCARA
L'Oreal Paris

Mattress & Bed

Tempur-Pro Series
Tempur-Pedic

Mattress in a box

Douglas
GoodMorning.com

Skin Care

NEUTROGENA ULTRA SHEER FACE MIST SPF 50
Johnson & Johnson

Small Appliance

KitchenAid Cordless Hand Blender
Whirlpool Canada

Snack Bars

NATURE VALLEY WAFER BAR
General Mills

Snacks

ANGIE'S BOOMCHICKAPOP WHITE CHEDDAR PUFFS
Conagra Brands

Tea

TETLEY SUPER TEAS
Tata Consumer Products

Vitamins & Supplements

CENTRUM MULTI+PROBIOTICS
GSK



The 27 winners of the 2021 Product of the Year Awards will be celebrated in a virtual awards show, on March 4, 2021. The event will feature innovation insights from Kantar, as well as some of Canada's most innovative retail and CPG 2021 award winners.

Click here for more information on this year's winners.