Red River Co-op pumps go dry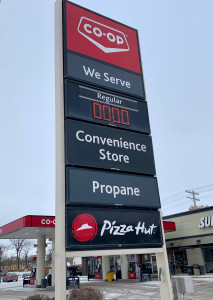 Federated Co-operatives' Regina refinery labour dispute is making itself felt well beyond Saskatchewan. Late last week members of Unifor, the union behind the more than 700 workers currently locked out of the Regina refining centre, staged a picket at Winnipeg's Esso and Shell terminals where local Red River Co-op drivers pick up fuel to restock the group's 35 gas bar and card lock sites in Manitoba and Northwestern Ontario. Red River Co-op is a business independent of FCL that is owned by its more than 180,000 members and it looks to Federated for wholesale  products.
The picket was successful and by Friday Feb. 7, locations were reporting no gas and limited diesel stocks in at some of the 23 locations in the Winnipeg area. The move by Unifor is a pressure tactic designed to get Federated Cooperatives Ltd. (FCL) back to the bargaining table. At issue is the company's plan to change how pensions are funded.
The dispute is also causing considerable collateral damage to low wage workers and transport operations. For example, the labour action in Winnipeg has caused locations to send workers such as gas bar attendants home after fuel dispensers were closed.
In Alberta, Saskatchewan and Manitoba, FCL  has had to impose limits on its cardlock customers. On February 5, Federated asked transport companies to limit their fills to 100 litres of gasoline and 300 litres of diesel at sites in the three provinces. With most transport drivers using between 600 litres and 800 litres per day for deliveries, the fuel limit is a major inconvenience that is negatively impacting trucking businesses.
By Monday Feb. 10, Red River's gas bar sites reported deliveries were beginning to reappear in the Manitoba capital as the picket wound down at the eastern Winnipeg fuel terminal.
Unifor reports that disruptions will continue as it ramps pressure on FCL operations and customers. Currently, Unifor is calling for a boycott of all Co-op retailers and businesses. The strike and lockout are now in their second month.
Contact OCTANE editor Kelly Gray at [email protected]