Rick Rabba to deliver keynote at 2020 OCSA Gala
The Board of Directors of the OCSA unveiled the keynote speaker for the 2020 OCSA Gala, which takes place at the end of day one of The Convenience U CARWACS show.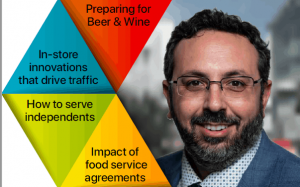 Rick Rabba, president of Rabba Fine Foods and CJR Wholesale, will speak at the networking event.

The OCSA's 17th Annual Gala is Tuesday March 3rd at 5:00 p.m. at the Toronto Congress Centre.

According to the OCSA, "7-11, Rabba Fine Foods, Hasty Markets, Quickie Convenience Stores, Gateway Newstands, Little Short Stop Stores, Avondale Food Stores, Kitchen Food Fair, Nicholbys, OKBA and many more category managers and executives" will attend.

Gala tickets are available now.

For more about The Convenience U CARWACS show - Canada's largest convenience, gas and car wash industry event - visit the website and register today.