Three Mont-Sainte-Anne area dépanneurs help feed ski regulars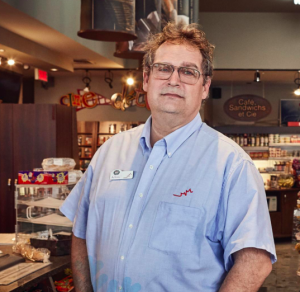 Quebec convenience store owner Alain Royer is no expert skier.  

 But he's a wizard when it comes to zigzagging through the challenges of running three winter-dependent stores at the foot of Mont-Sainte-Anne, the largest ski resort in Eastern Canada, all called Marché Mont-Ste-Anne.  

 "We're like ski shops and other seasonal operators," says Royer. "If there's no snow, we're in trouble."

Tourists, he adds, make up roughly two-thirds of total store revenues. Nearly three-quarters of those sales happen during peak ski season from December to March.

 It's been that way since 1992 when Royer and fellow entrepreneur and majority partner Denis Hamelin bought their first c-store near Mont-Sainte-Anne, 50 kilometres northeast of Quebec City.

"It was more of a general store with a post office and a meat counter," recalls Royer.  

They did a costly makeover of the store, bringing in new refrigerators and counters and investing in ski-themed wall art and other decorations.

They also introduced bar code scanners, reportedly becoming the first food store in the Quebec City region – and possibly all of Quebec – to use the technology. 

A year later, the partners opened a second store in the lobby of the Chateau Mont-Sainte-Anne, a four-star hotel at the base of the ski mountain.

 "It was more of a souvenir store with stuff like sweat shirts with the Mont-Sainte-Anne logo on them, postcards with winter scenes, and pop, chips and chocolate bars," says Royer.

 After several years of strong sales, including a whopping 20,000 postcards a year, Royer says demand for souvenirs suddenly fell flat a few years ago – a change he blames on increased competition and the rise of picture-taking smartphones. 

But he and Hamelin countered that drop by adding a coffee bar that serves high-end beverages and snacks to skiers.  

The partners' biggest success however has come from the Petro-Canada gas station and a third store they opened in 1995 in a small strip mall that Hamelin built just a kilometre west of Mont-Sainte-Anne.

According to Royer, the new location was designed from the outset to meet growing demand from both tourists and locals for everything from fresh-baked goods, charcuterie items and movie videos to specialty foods, craft beers and outdoor vacation-related items. 

"It was a bold but smart move," says Royer, who runs the three stores and manages their 21 employees from a basement office under the gas station while Hamelin takes care of his other businesses, including a restaurant and ski shop next door.

 "We realized that more affluent people were moving here and coming to visit not just to ski or to snowmobile in winter but to play golf or go hiking or mountain biking in summer."

Making three stores successful

In addition to Mont-Sainte-Anne's evolution as a year-round tourist destination, Royer credits experience, innovation and tenacity for his and his partner's ability to profitably run three stores that are located only a few kilometres apart.

"It's tricky because you have to quadruple inventory in December and if you make mistakes it can lead to big losses," says Royer. "It took me a long time to figure out how to calculate it. It's a lot of trial and error, but I've got it down so precise that I know even the number of bottles of certain wines to order."

Some challenges are, however, now keeping Royer up at night. One is recruiting and retaining staff. Another is having to constantly badger employees to ensure they card anyone who looks 25 or younger when buying tobacco products.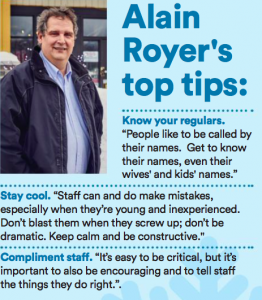 "What I love most about this business is meeting and talking with people from all over the world," says Royer. "What I hate most is the cigarette police are always trying to entrap us by sending in minors to buy tobacco products."

 In addition to trial and error, Royer credits his and Hamelin's use of modern business technologies, their ability to identify consumer trends and their willingness to invest for their continued success in the convenience store industry.

 Says Royer, "You have to stay up with the times. You won't last long in this business if you don't."

 

++++

Snapshot

 Owners: Denis Hamelin and Alain Royer

Location: 3 stores within 3 kilometres of each other near Mont-Sainte-Anne, Quebec. 

All under the same name: Marché Mont-Ste-Anne, but with different appendixes denoting their geographic location, to wit:  Faubourg (most easterly), Chateau (in the middle), and Plateau (the biggest, most westerly and the only one with a gas station).

Products and services: Regular c-store merchandise, lottery tickets, tobacco products, beer, wine, specialty food items, fresh-baked goods, dry cleaning, postal counter, souvenir items, firewood, ice, gas

 Number of employees: 21 full-time and part-time

Store hours: Daily from 7 a.m. to 11 p.m. Open 365 days a year – though they close at 8 p.m. on Christmas Day!