Shell gets started on Scotford turnaround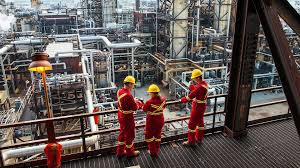 Last March Shell announced it would hold off on its turnaround work at its Scotford refinery, a facility located about 50kms north of Edmonton. Canada was getting hammered by COVID-19 and Shell wanted to limit transmission of the disease. April was announced as the new date for the important maintenance work, but the health crisis had the company hold off again. Last week Shell Canada announced that its planned turnaround of the Scotford Refinery will commence this July.
 A turnaround is a scheduled event where an entire process unit of a refinery is taken out of service for an extended period for revamping. This periodic maintenance at Scotford happens about every five years and costs hundreds of millions of dollars. The Scotford turnaround announced last week will impact the site's south upgrader. This system is one that adds hydrogen to bitumen to turn it into synthetic crude oil, which can then be further refined into fuel products.
The project is expected to take several months and will employ more than 3,800 workers per day. Given this large number of workers, Shell was concerned about the spread of COVID-19 at the location and idled the turnaround project until the company could be assured the health concerns of staff had been addressed. Already, Scotford had two confirmed cases of COVID-19 in June. Shell reports that the two cases were quickly isolated using protocols they had developed earlier.
Working with Alberta Health and other organizations Shell has sought to limit COVID-19 transmission by enforcing physical distancing, implementing screening protocols for workers coming to the site, changing the cafeteria to take-out only, requiring masks or face shields when on the property, and limiting the number of people on buses to create more opportunity for social distancing. The oil company also took a page from professional sports teams where they paired workers into cohorts who regularly work together to create workplace 'bubbles' of safety.
The Shell Scotford Refinery was build in 1984 and employs 1300 staff. The complex consists of a bitumen upgrader, oil refinery, chemicals plant and a carbon capture and storage (CCS) facility. Much of the 300,000 barrels per day produced at the upgrader is used by the adjacent refinery to create products such as gasoline, diesel, jet fuel, propane and butane. The refinery has a daily capacity of 100,000 barrels per day. The chemicals plant utilizes byproducts from the refinery to produce styrene monomer and ethylene glycol.
Octane editor Kelly Gray can be reached at [email protected]