Shoppers Drug Mart offers convenient home delivery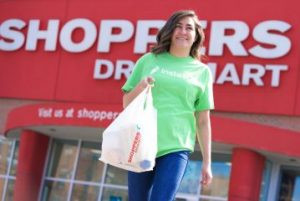 Shoppers Drug Mart has entered the race for home delivery.

In partnership with Instacart, the Loblaw-owned retail chain is launching same-day delivery of groceries, household items and over-the-counter medications from 60 Shoppers Drug Mart stores.

The service covers 30 communities across Ontario, including Toronto, Ottawa, Waterloo, Cambridge, Hamilton and London.

"For decades, Shoppers Drug Mart has been a destination for Ontarians for health and beauty products, food staples and general convenient shopping to help them make life a little bit easier," said Matt Carr, vice-president of merchandising at Shoppers Drug Mart, in a press release. "Working with Instacart allows us to serve our customers wherever they need us, whether that's in a store or delivered right to their door."

Customers can place orders online at Instacart.ca or through the Instacart app. An Instacart personal shopper will pick, pack and deliver the order within the customer's designated time frame—in as fast as one hour or up to five days in advance.

The delivery fee is $3.99 on orders of $35 or more. With an Instacart Express membership ($9.99 a month or $99 annually), customers get free, unlimited delivery on all orders over $35.

Loblaw first partnered with Instacart in November 2017, launching home delivery from Loblaws, Real Canadian Superstore and T&T banners in Toronto and Vancouver. It has since expanded to more than 250 Loblaw banners from B.C. to Nova Scotia.

Instacart and Loblaw plan to continue to expand the Shoppers Drug Mart partnership throughout the year.

Originally published by Canadian Grocer.