Stealing gas is a crime
Industry leaders launch a province-wide ad campaign to help raise awareness about the dangers and the consequences of fuel theft.
This week, Toronto Crime Stoppers, along the Canadian Fuels Association, theOntario Convenience Stores Association (OCSA), and the Canadian Independent Petroleum Marketers Association (CIPMA), launched a province-wide ad campaign to help raise awareness about the dangers and the consequences of fuel theft.

The campaign posters (shown below) have two phrases. The first says "A gas thief is easy to find" and the second, "Stealing gas is a crime". Both posters depict individual mug shots, with the suspect holding their license plate. The idea behind this campaign (designed by DDB) is that both the identity of the person and the identity of the vehicle will be recorded, either by video surveillance on site or by citizens who come forward as witnesses and record that information.



It's a simple but impactful message.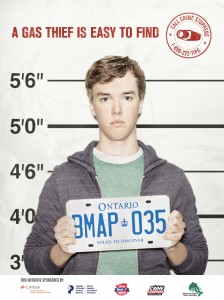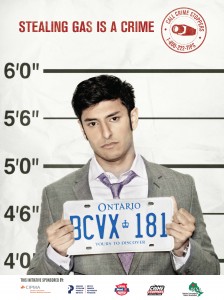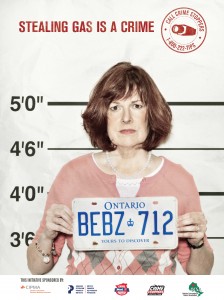 The CCentral.ca editorial team was there at the press conference where representatives from these organizations spoke about this campaign and why it's a priority to raise public awareness.

"Fuel theft is a crime and it jeopardizes the safety of retail workers and customers," said Peter Boag, of the Canadian Fuels Association. "We're very pleased to be working with our partners at CIPMA, OCSA, Mac's, Crime Stoppers and with the Toronto Police to create broader awareness of the criminal nature and risks of fuel theft, and to encourage the community to be more vigilant and to provide information concerning criminal activity against gas retailers."

Toronto Chief of Police, Bill Blair, also spoke about the dangers of gas theft and the need for citizens to come forward if they witness a theft taking place. He was clear though, that no employee or citizen should ever try to stop or apprehend the individual. Instead, they should record as much information as they can and either report it directly to the retailer or to Crime Stoppers by calling 1-800-222-TIPS .

"The theft of gasoline is a crime that puts people at risk," said Blair. "It reminds us all for the need for all of us to come together, and that's what we're witnessing here today." He said that by coming together and raising awareness, the plan is to reduce the incidence of this crime and to make it more difficult to commit.

In doing so, said Blair, it will "make it safer for the people involved in the retail of gasoline, the citizens who are purchasing gas and for all of us who use our roadways. We've seen that in these types of crimes in the GTA, people have lost their lives … "

"Over the coming weeks and months you will see awareness campaign materials appear at Canadian Fuels, CIPMA and OCSA member retail sites across the province," said Boag. "The work doesn't stop there: we are proactively sharing our best practices and training materials and encouraging their adoption by all gasoline retailers."

It's an important message to put out there, and like all of the organizations involved have said, it will take cooperation and communication to put an end to this dangerous crime.