Newfoundland project in question
Suncor, Canada's leading integrated energy company, has announced it will record a $425 million non-cash after-tax impairment charge in the fourth quarter of 2020 on its share of the Atlantic offshore White Rose asset and West White Rose Project.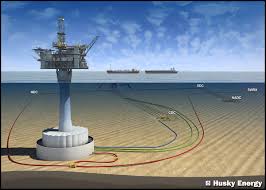 The West White Rose Project was cast originally as a partnership between Husky Energy, Nalcor and Suncor. However, the recent acquisition of Husky Energy by Cenovus, a $21 Billion Calgary-based oil and natural gas company, has placed a shadow on the future of the West White Rose Project where plans are to access 200 million barrels (gross) of crude oil and extend the life of the offshore White Rose field by approximately 14 years. Discussions are ongoing with the operator and various levels of government to determine the future of the project.
Suncor's 2021 guidance remains unchanged as the White Rose field will remain online producing as expected. 
The White Rose asset joint venture owners are Cenovus (operator, 72.5%) and Suncor (27.5%). The West White Rose Project joint-venture owners are Cenovus (operator, 69%), Suncor (26%) and Newfoundland and Labrador provincially owned energy corporation Nalcor (5%).