Tap & Wash solution transforming car wash industry
Save time and money while improving the customer experience with Tap & Wash from Monexgroup. Find out more here!
MONEXgroup's latest technology is revolutionizing the way the car wash industry does business in Canada. With over 2,000 contactless devices deployed nationwide in 2017, and another 3,000+ expected in 2018, clients have cited many substantial benefits of utilizing this coinless unattended payment solution, including: increasing sales, saving money, time, and hassle, while vastly improving customer experience.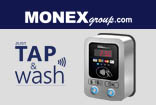 For more information about Tap & Wash, call 1.866.767.7253 or visit monexgroup.com.