Telling our story
The National Convenience Industry Summit drives home the important role c-stores play in their communities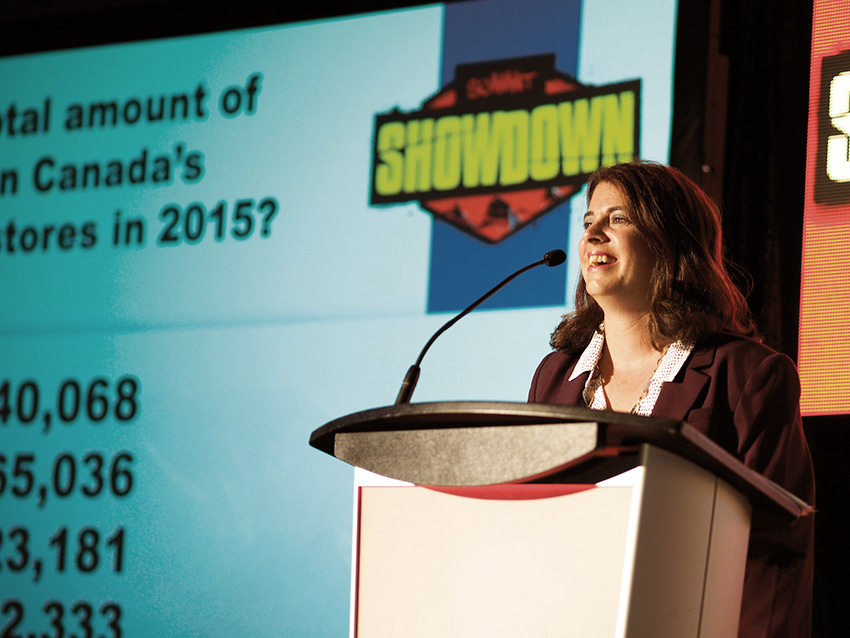 The National Convenience Industry Summit kicked off this past September in Collingwood, ON with a video containing a simple message: C-stores matter in their communities.

"The opening video told the story of the importance of the c-store in the progression of a lifetime, so from childhood to old age," says NACDA President, Anne Kothawala. "That sense of independence starts with the kid who goes to the corner store with a dollar in his or her pocket to pick out their own treat for the first time by themselves and it carries through to the elderly, who can't always drive to the grocery store, but maybe they can walk to the corner store a couple of blocks away to pick up some of those basic necessities or lottery tickets," she says.

There's something nostalgic about the role c-stores play in their communities, she says. "It's about that connection, and it's something I think most of us can fondly remember."

And with that opening video, the Summit's 2016 theme of "Telling Our Story and Growing our Business" was launched. The Summit, which was held from September 28-29, 2016, saw record attendance of distributors, retailers and manufacturers.

Speakers included radio personality and marketing expert Terry O'Reilly, host of Under the Influence, who provided some very tangible examples of companies and industries that have used storytelling to grow their brand or their marketing strategies.

"Paul Hollands from A&W really put theory into action with his presentation. He spoke about the A&W story and how they decided, in the quick service burger market, they were going to be the healthiest out of their competitors. He walked us through their research and how they executed their strategy and how it saw great results," says Kothawala. "This was a very tangible example of an industry that told its story and a business that distinguished itself from its competition and really had success with it."

For Kothawala, it's all about tangible information and advice. "From the very beginning with the opening video, we made a conscious effort to make sure that everything was woven together so that people could see that the theme wasn't just an interesting tagline. We really were making sure that each of the speakers talked about how powerful a collective story is."

Understanding demographics

Another focus of the Summit was understanding the changing demographics of the c-store customer base.

"Understanding changing tastes, demographics and ethnicities is paramount. This is following up from previous Summits, where we've looked at demographic changes. One of our big research items in the past was all about women and what they're looking for."

In the retail environment in Canada, things are changing.

"There are countless retailers and researchers who are talking about this seismic shift and if we're not on top of some of those changing demographics, what will that mean for us as an industry?" asks Kothawala.

As she says, the goal of the Summit is to provide all the key stakeholders with tangible information and knowledge they can take back to their workplaces. The Summit offered a forum for discussion amongst attendees about how their respective businesses are changing.

Recognizing excellence

The NCIS provides an important opportunity for recognizing and rewarding hard work and innovation. It does this with two awards: The Awards of Excellence and the Convenience Innovation Awards (CIA).

In 2016, there was a new category in each to reflect the evolving nature of the industry. The Awards of Excellence now chooses a top retailer to receive the Outstanding Retail Leader of the Year award. "Part of the genesis of that is to recognize the affiliation between NACDA, the CCSA and all of its regions, so we thought it was important to make sure we were also celebrating and recognizing our retail partners," says Kothawala.

"In terms of the CIAs, recognizing the changing nature of the industry, one of the growth areas is foodservice, so we added a Meals-on-the-Go category. We're hoping in the coming years there will be more and more participants competing in that category because we really do see that as a growing area," she says. 

Check out all 2016 award winners below!
Awards of Excellence Winners
Full Service Distributor: Beaudry Cadrin
Lifetime Achievement Award: Dennis Frank
Lifetime Achievement Award: John Di Rollo
Outstanding Industry Leader: Marc Gagnon
Outstanding Partner Award: JTI
Outstanding Retail Leader of the Year: Ramona Roberts
Humanitarian Award: Nestle Canada
Outstanding Industry Contribution Award: Michel Poirier 
Convenience Innovation Award Winners
Beverage Category: Monster Energy Canada: Punch Monster Mad Dog
Better-for-you Beverage Category: Bolthouse Farms: Strawberry Banana
Better-for-you Beverage Category: A. Lassonde: Oasis Lemon and Honey Iced Green Tea
Confectionery and Gum Category: Dare Foods Limited: REALFRUIT Superfruits 180g
Chocolate Category: Hershey Canada: Reese Mix
Snack Category: PepsiCo Foods Canada: Doritos Dinamita: Chili Limon
Snacks Category: Ferrero Canada Ltd.: NUTELLA & GO! Pretzel
Better-for-you Snack Category: KIND Snacks: Caramel, Almond and Sea Salt
Meals-on-the-Go Category: Canadian Trade House: Hot Stuff – Calzones and Baguettes – World Flavours, Chicken Bacon Caesar
General Merchandise Category: Creative Planogram Company: Dual Tip 8 Pin Micro Charge Cable
People's Choice: Hershey Canada: Krave Sweet Chipotle
Mark your calendars for NCIS 2017!
When: September 26-28, 2017
Where: Le Concorde Quebec, Quebec City, QC
How: Find out more information at nacda.ca