Total package performance
The newest AutoSpa is a showcase for the latest car wash technology and service options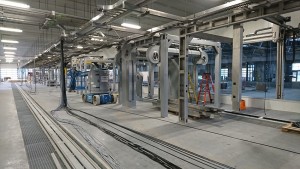 The latest AutoSpa is big news. Indeed, the over $15 million car wash and vehicle care centre on Platinum Drive in Mississauga represents the next stage in the evolution of North American car wash service. Operated by AutoSpa Operations President Fred Misheal, owner Ehab Shaeen and General Manager Ken Cranston, AutoSpa's newest location is impressive by anyone's standards. Inside, customers will soon find three 95-ft. STI flat deck conveyors for express interior detail, two 190-ft. WashTec tunnel exterior washes, fine detailing bays, three-door Jiffy lube, chip repair and window tinting and other services as well as five self-service bays and customer lounge complete with a 'We Proudly Serve' Starbucks concept. All are set against a backdrop of huge windows that deliver swaths of natural light into the new facility that is expected to open this April with full service underway by May.

"This will be the Taj Mahal of car washes," said Ken Cranston on a recent tour of the construction site. He points to not just the scope of the service, but the quality of the equipment engineering and design. "We have introduced linear technology. We paid more and we got more as a result. This site is well beyond the standard that is currently in play in the North American car wash sector,"  he says.

Fred Misheal agrees. Looking out onto the project site, Misheal notes that many of the crew on location are from WashTec's Germany-based operation as well as from Mark VII North America. Equipment for the tunnels was built and shipped in containers from Europe. Together, crews have placed CNC precision cut gantries, motors, nozzles, and fittings along wash lines that will be impressive for their low maintenance and high performance. He points out that as a starting point they elected to go with stainless steel rather than powder-coated metal for longer protection and less corrosion.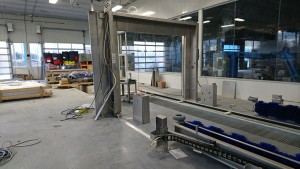 To start AutoSpa designated a prep area where they use high pressure nozzles to manage and move soils away from the tunnel and conveyor washes. According to Misheal, this first step really helps the overall water reclaim systems and keeps moving parts such as those on conveyor belts in top shape thanks to lower maintenance needs. Dirt and grime from this first step are deposited in below-floor tanks where grit settles.

Challenges such as getting at those hard-to-reach side mirrors have been addressed in the new facility. Misheal reports that they undertook an in-house design in combination with WashTec's engineering skill to come up with a unique blade blower for a consistent dry that works by directing forced air more effectively. From these unique standalone mirror dryers, air is ejected from a blade to direct air flow to places such as mirror cavities and delivers excellent results to achieve a superior dry finish.

On the flat deck conveyors teams of detailing pros travel along with the vehicle in a 24-minute, five-stage process that uses a variety of equipment including Eurovac where the new location will use a twin pump system in a lead/lag configuration.  Eurovac reports AutoSpa will have 17 drop locations for its Double 30 horsepower vacuum setup. Features include a 48" Baghouse Separator, 36" Wet Pre-Separator, and a blower rack to stack the blowers and save space.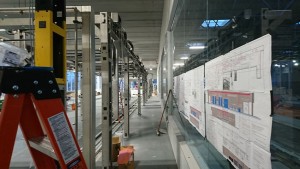 Through-put on the conveyor is gauged at 600 cars per day. Altogether this side of the wash uses an average of 16 people, who rotate job functions after each wash completion. "This keeps people fresh with jobs not so repetitive," says Cranston.

Energy efficiency and enviro-friendly touches are key to the new AutoSpa. Designers elected to use energy-sipping variable-frequency drive motors and LED lighting as well as bring in a reclaim system from Germany that has been successfully used for many years. According to Misheal, Eco-friendly soaps and chemicals from Mondo and MarkVII are in use throughout the facility with foaming and pre-soak assisted by using fresh and softened water. Overall, use is about 16 gallons of fresh water per vehicle with the site using water reclaim systems in certain dedicated applications throughout the wash tunnel. "This system is monitored in Germany to ensure it is operating as effectively as possible," he says.

Standing in what will be the customer lounge, both Misheal and Cranston point to large plates of glass that provide a complete view of cars in the wash and car detailing area. "This builds customer confidence because they can see the quality of the clean as they relax in the lounge,"  says Misheal, who adds that this comfortable lounge zone will feature signature coffee service and state-of-the-art furnishings. Adjacent to the lounge area customers can avail themselves of a variety of services including the Jiffy Lube, stone chip repair, windshield replacement, paint protection film, dent repair, and headlight restoration.

8 points of engineering excellence

*Wide track and low-profile conveyor – Delivers lots of tire room and clearance. This means greater protection for wide rims and tires as well as low profile cars.

*Steel Conveyer – Tire preservation is guaranteed thanks to smooth-surfaced plastic sidewalls with rounded corners. Suitable for tire widths up to 330 mm.

*Contour-tracking high pressure and linear following – Effective high pressure thanks to a rotary high-pressure bar that tracks the contour of the vehicle closely. Maximum performance primarily at the vehicle's front and rear with a high-pressure station following alongside. Pressure levels are 1200 psi.

*High pressure underbody washing – The underbody washing system thoroughly removes salt residue and dirt from the chassis. Twenty-two underfloor washing nozzles clean the underbody with two outwardly slanted nozzles serving specifically to clean the wheel housings.

*Linear following for an intensive wash – Linear following roof and side brushes guarantee more impact time spent at each part along the entire vehicle contour.

*Electric brush adjustment – Electronic brush adjustment ensures precise and careful positioning of the brushes thanks to the continuous current measurement of the rotary movement.

*Precision adjustment and gentle washing – Electronic brush adjustment called 'SofTecs' is very gentle and long-lasting. SofTecs keeps paintwork gleaming and does not leave any material abrasion.

*Linear technology— The contour tracking movement of the roof nozzle near to the car ensures an optimized and energy-saving dry process thanks to linear technology in combination with rotary positioning of the roof nozzles. All motor drives are controlled by frequency converters to maintain long equipment life.