04/27/2017
Triple run
This Muskoka triple-threat operator has grown its business by seeking a better way in everything they do.
The Greenwood family is working hard to take the fuelling experience to a higher level. The Huntsville, ON group headed by Larry Greenwood is known commercially as Capstone Ventures Inc. and currently operates three Petro-Canada gas, wash and c-store sites in the Muskoka region. The most recent addition (October 2016) just opened in Burks Falls, ON and mirrors the other sites in nearby Huntsville.

According to Greenwood it all started about five years ago when he and wife Mary pulled into a gas station and noticed how narrow the forecourt was. "You could barely open the car door without hitting the car pumping on the other side. We knew we could do better," he says, adding that they got their start with the purchase of a 12-acre plot in Huntsville where they built their first location on Capstone Lane between a Tim Horton's and a Home Depot. That was June of 2013. The next year, the group opened a second location in the community that is at the heart of Ontario tourist and cottage country. Greenwood notes that from the beginning his family was not sure that fuelling sites were the way they wanted to go.

"With my son's environmental engineering background we wanted to make use of the best available technologies to minimize the impact on the environment. We felt the sites could do this if they were designed and developed properly so we created a wish list and went about putting it together. We have worked to make them as environmentally responsible as possible through construction technique and operations," he says.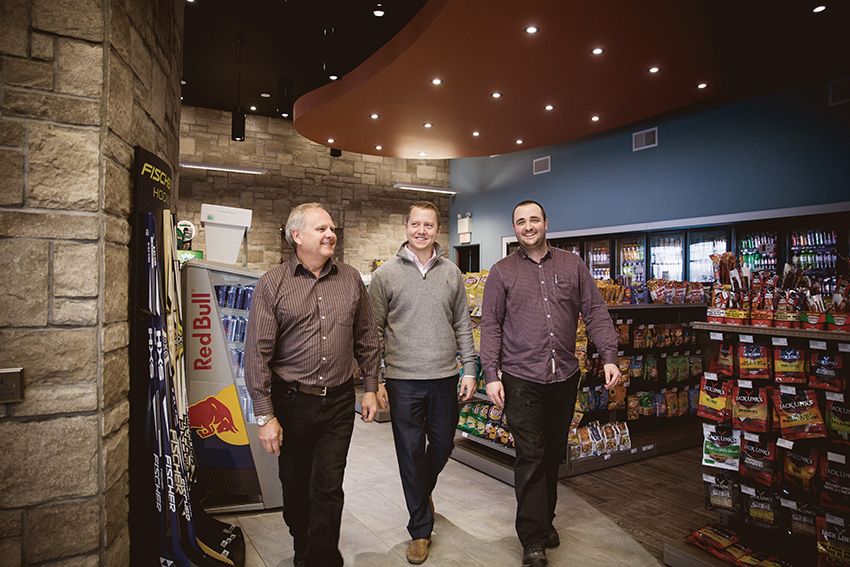 For example, contractors used ICF (Insulated Concrete Forms) to create walls and floors that were highly energy efficient. Designers also turned to Robur Advanced Heating and Cooling Technologies for natural gas systems that helped them attain a 60% reduction in energy costs for each of the three 3,000-square foot convenience retail stores where air conditioning and floor heating is natural gas. Robur manufactures heating and cooling products that utilize high efficiency heat pumps that can save up to 40% of operational expenses alone. "We placed all our refrigerator compressors outside to help keep the store cool and create further savings. In fact, we discovered that there tends to be more dust inside a store than there is outside, so we have also saved on maintenance of compressors and other pieces of equipment impacted by airborne grit." Forecourt and grounds are lit with LED (Light Emitting Diode), another major factor in reducing the site's environmental footprint. The industry suggests that longer lasting LED can save as much as 70% in dollars with energy usage dramatically reduced.

Sites are well equipped to service customers' petroleum needs. One site (Huntsville) offers ten fuelling lanes while the other two, including the new location in Burks Falls, provide eight lanes each under canopy and use what Greenwood suggests is the best gas and diesel available.

Greenwood's view is that Petro-Canada provides the country's best petroleum products, not to mention a leading loyalty program that translates into return visits where they incent customers with promotions for things like car wash. "We have 28-feet between pump rows to make sure our forecourt is easily accessed and customers don't feel crowded. Our sites also feature fantastic sound while customers pump their gas," he says, commenting that they use large sub woofers to enhance the total pump-side experience.

"In store there is free popcorn and our washrooms are second to none right down to the air fresheners. We have really looked at all the little details to create a big package that delivers on expectations at every point of contact."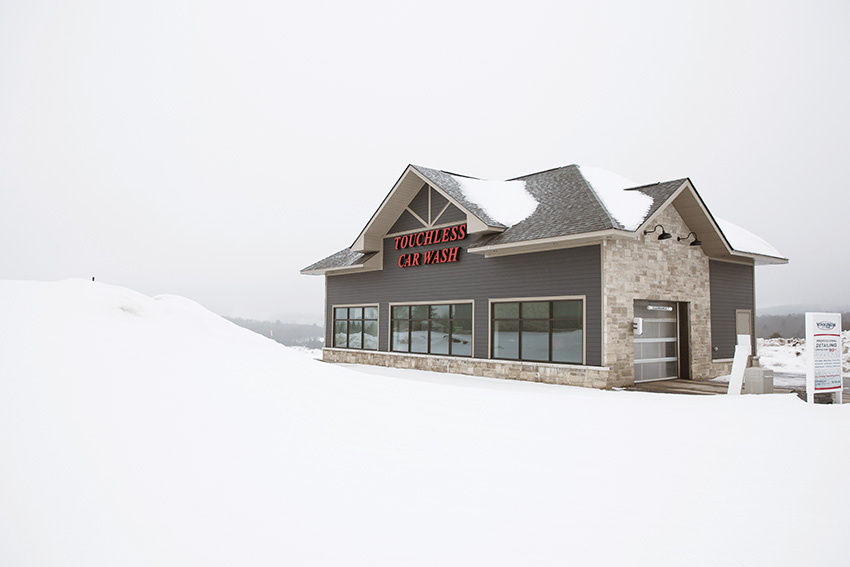 Each of Capstone's car washes are fine tuned to the Greenwoods exacting specifications. "Our wash sites have a full bank of windows to make the service bright and open. Our opinion was that the standard tunnel wash was a scary place with machinery, noise and a cave-like appearance. We opened it up and made our car washes more approachable with lots of natural lighting, a fact that also helps us keep costs down," he says reporting that their touchless wash systems clean a vehicle every 3.5 minutes (a little longer in the winter where they use movable blowers).

Water is an essential element to every car wash and Capstone elected to go with a high-pressure low-volume system at each of its touchless washes. Greenwood tells that the decision has resulted in a 50% reduction in water use while maintaining high customer satisfaction. The sites use municipal water for inputs and thanks to the great natural conditions in the Muskoka region, Capstone sites have not had to treat or condition the water with the exception of some additional sodium.

"There was a fair bit of mixing and matching of chemicals and car treatments before we got it just right. Now we find that we are changing our chemicals four times a year to meet the needs of each season," he says. "The water is really ideal for the job and we have not had to invest in RO (Reverse Osmosis) for the final rinse. The softness of the water helps use deliver a spot-free wash."

Ontario has some of the most challenging conditions for car wash operators. Greenwood acknowledges this and says that they saw a need to get very focused on winter grime. "We installed 'Gatling guns' up front and have a high-pressure spray for undercarriage to battle corrosion," he says remembering the problems his wife had with a corroded brake line. "We use a rust inhibitor in our rinse to stop corrosion."

At the c-store Capstone offers goods of value to both the local crowd as well as the tourist market that peaks in the summer months when population explodes in the area. Not surprisingly, tobacco is the number one SKU by far, but, says Greenwood, they are constantly on the hunt for products and services to bridge the gap. This includes innovative beverages that they have seen on research tours of other regions such as Western Canada as well as Capstone logo'd products like clothing, travel mugs and private label items. "We see what works and what doesn't and make changes as necessary," he says. At the new location in Burks Falls they are still deciding on the mix for the 3,000-sq.ft. floor plan, but it has to meet the needs of the local area. According to Greenwood they are not interested in simply dropping in a foodservice offering to fill the open space. "This could negatively impact a local mom and pop restaurant. Yes, we compete, but in a mindful way."

According to Greenwood it all comes down to a hard working crew. "We have been fortunate to have a great General Manager who has really kept his eye on the ball and helped make the stores the successes they are today," he says, commenting that Petro-Canada mystery shoppers have placed them and their staff of 30 employees among the very top of the chain's 1,500 locations.

Behind everything, he says, is a dedication to their concept and an overriding respect for staff, customers and the community. "We pay a higher wage because local market demands that, but also because we want to keep our people. We are building relationships with this business and our staff shows off a consistency that our customers appreciate. We don't think we are necessarily better than other operators in our area, we are just different and to this point a bit of difference is paying off."