Vaping and c-stores: 6 burning questions answered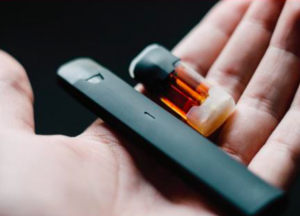 Not all that long ago, tobacco was the staple for c-stores across Canada. Cigarettes, by the package (large and small) and by the carton (large and small) lined shelves in full display of a steady stream of customers. Those days are gone. In their place are new customers looking to buy a product that has the allure of smoking without, potentially, containing the more than 4,000 chemicals in the typical cigarette.

Electronic cigarettes, commonly called e-cigarettes or simply e-cigs, and related products are becoming a staple for many tobacco smokers and a cadre of non-smokers. As a result, the product category offers convenience stores a new and growing opportunity to draw more customers into their premises more often. The category, however, is not without controversy.

As you enter this brave new world, it's time to get to know this emerging category.

1. What is vaping?

Vaping refers to the act of inhaling and exhaling – or smoking – a vapour (aerosol) produced by products like e-cigarettes. Vaping products heat liquid formulations, called e-liquids, which are then inhaled.

According to Imperial Tobacco Canada, most vapour products are based on what is called a coil and wick technology. The coil, also known as an atomizer, heats a cotton wick that conveys the liquid, producing the vapour that is inhaled.

Vaping devices come in numerous shapes and sizes, a factor that has confused many in the c-store sector. Some products are small and resemble USB drives or pens. Others are much larger. Despite the diversity of options, however, there are only two types of vaping devices, Health Canada reports. An open system enables the device to be refilled. A closed system requires the whole product or the part that holds the e-liquid to be replaced.

There are also related systems and products including what are called heat-not-burn products that heat tobacco instead of burning it.

2. As a category, is vaping different from smoking?

Absolutely, says Rob Colucci of Fontem Canada – blu Vapour, whose overarching goal as a vaping product company is to transition adult smokers to something better and ultimately eliminate the consumption of combustible (smoking) tobacco. "As a category vapour has exponential growth potential," he says. "The key to this goal is to help existing adult smokers switch by offering vaping products as a less harmful alternative to cigarettes. Health Canada recognizes and shares this goal, as is made clear on their website where it is noted that vaping is less harmful than smoking."

3. How prevalent is vaping?

That is a difficult question to answer. A 2017 study from the University of Waterloo, Tobacco Use in Canada, found that in 2015, among Canadians 15 years and older a "substantial number" had tried e-cigarettes. The specific numbers look like this:



13.2% (3.9 million) reported having ever tried an e-cigarette


3.2% (approximately 946,000) used one in the past 30 days


1.0% (roughly 308,000) reported daily use



The use of e-cigarettes is also growing in popularity, according to the report. That popularity appears to be global. In the U.S., for example, a national survey in 2016 found that roughly 4.5 per cent of the adult population were current e-cigarette users. Individuals under 35 accounted for more than half of this figure.

"The vaping market is relatively new and expected to grow rapidly as cigarette sales decline," notes Michael Nederhoff, Canada's general manager with JUUL Labs in Toronto. "Some estimate the yearly growth rate of this category is over 15 per cent and could cross $43 billion globally by 2023."

4. What is the sales potential of e-cigarettes for c-stores?

"Vaping products present a big opportunity for convenience stores," says Nederhoff. "Vapes are on their way to becoming a sizable product category for convenience store operators. Adult smokers are increasingly interested in what vaping technology has to offer. And regulators and industry are working hard to make sure these products are available in a responsible and controlled way."

Charis Chrysochoidis, reduced risk products lead for Canada with JTI-Macdonald Corp., in Toronto, points out that the category is likely to expand given a regulatory reversal by Health Canada. "The sale of nicotine containing e-liquids was only legalized in May 2018, so we expect the category to grow over the next couple of years as more adult consumers discover alternative choices to their existing smoking and vaping products. And we think most of this growth will occur through convenience store sales."

The margin on vape products is also superior to tobacco, notes Stewart Ingles, president of Hilary's Salesmaster Inc, a national retail distributor based in Concord, Ont. "Convenience stores hardly ever get true dollar margins as they will with this category, so they need to embrace and promote within their stores based on the provincial legal rules."

"This, in my opinion," he adds, "is the most important new category to enter this market since the energy drinks."

5. Will consumers switch from online to in-store?

There is another reason vaping is growing in Canada and has the potential to become a big category in c-stores, says Peter Luongo, Rothmans, Benson & Hedges Inc.'s managing director in Toronto. "Currently online sales are the number one channel for vape product sales, and specialized vape stores are another potential destination for consumers."

Indeed, says Nederhoff, "convenience stores are one of few brick-and-mortar options for adult smokers to legally purchase vaping devices and products. As such, they play an integral role."

From a sales perspective, there is no special equipment or features required to sell vaping products. Pricing is also straightforward if c-stores follow the manufacturers' recommend price point. While prices will vary according to type of product and manufacturer, the market is competitive. C-stores can expect pricing to reflect that competitive market.

6. What do c-store owners need to know about the products?

Understanding e-cigarettes and vaping products has proven problematic. "Initially, the vaping category flooded convenience store owners with complex systems that were hard to explain to both store owners and consumers," says Chrysochoidis.

JTI is hoping it has cut through this confusion with its new vape system, which Chrysochoidis calls a "game changer." "Logic Compact offers convenience stores a simple and easy way to use vape, and consumers are responding positively. With its magnetic pods and charger, vaping just clicks with Logic Compact."

The system, known as a closed tank, uses replaceable 1.6ml pre-filled e-liquid pods. The pods come in four flavours — tobacco, menthol, fresh berries and tropical — and click seamlessly into the device magnetically, as does the charging cable. "Choosing simple, sleek vape technology like Logic Compact makes it easy for convenience store owners to increase foot traffic and revenues and capitalize on the profit opportunity that vapes represent," says Chrysochoidis.

Other companies, such as JUUL, offer c-stores the option to carry pods in flavours that range from mango to cucumber to Virginia tobacco. These sell for a recommended $20.99 a pack. Device kits, including starter kits, are also essential. JUUL's starter kit, for instance, includes a rechargeable device, USB charging dock, four JUULpods, and it comes with a one-year limited device warranty.

Then there is the IQOS 3 MULTI, a heated tobacco system and not technically a vape, that gives customers 10 back-to-back experiences without having to charge the IQOS holder in between heatsticks.

Variety defines the vaping market.

Except from The Vape Report in the May/June Issue of Convenience Store News Canada.