Walking the talk at Express Auto Spa
New B.C. wash sites moving closer to net-zero

NationWide Self Storage & AutoWash has a unique business model. The Vancouver-based company operates large institutional quality storage facilities primarily located in greater Vancouver but also has developed facilities in the B.C. interior that it is pairing with state-of-the-art car wash centres. NationWide has just opened its new Express Auto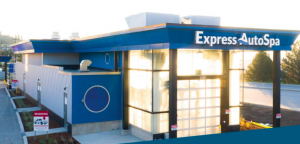 Spa and Self-Storage in Kamloops and plans for several more sites with one opening late in 2021 in Vancouver on Boundary Road and another in South Surrey in 2022. As well they have a site under contract for another Express Auto wash in Coquitlam and are now targeting Langley and Surrey as key expansion municipalities.

The idea at the outset was to marry high yielding businesses to create a strong income driver for investors. Projections showed car wash industry revenue increasing at an annualized rate of 1.4% over the next several years. Further research found that BC is under-serviced in terms of car-wash sites to population density. Population growth and residential space considerations in BC made the need for storage greater than ever. Together, storage and car wash have proven to be a match made in investment heaven.

The company also sought the latest in Eco-friendly technology.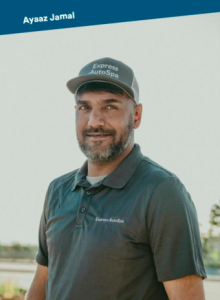 "The environment is very important to us and we drive business by marketing our eco advantages," says NationWide Self Storage operations director Ayaaz Jamal. He mentions that coming to their new Vancouver location on Boundary Road will be a full net-zero approach where they will use rainwater alongside municipal water sources to clean cars and solar panels to heat the building. "Here in Vancouver it rains like London, England and we saw there was a real opportunity to harvest nature in the form of capturing rainwater for use in the wash process. This not only saves us money, but it allows us to help the environment as well. We like this aspect, but our customers will love it."

Plans will see NationWide start construction this September on a new 90,000 sq. ft., five-storey facility that will house the net-zero facility on the ground floor and more than 1000 storage lockers in the upper levels. Jamal reports that rainwater will be captured from the roof and moved to underground 30,000 gallon tanks. The system will team with SoBrite reclaim equipment that will process the rainwater through osmosis for the wash plant. According to Jamal the rainwater travels the system in a 96-hour cycle and will combine with municipal water as needed. Expectations are that at first, the wash site will use about 15% to 20% municipal water until everything gets up to speed.

"A lot of people say they want to protect the environment. We want to be a company that actually does this. Our plan is one that brings old school service together with the latest technology to create a win/win for our customers."

New site opened this July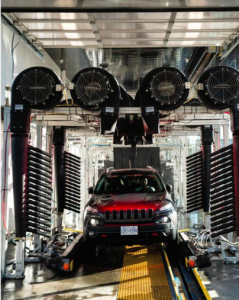 NationWide opened its new Kamloops facility in July 2020. The location is ideal for a new car wash with the site bordering the Trans-Canada highway and neighbouring Costco and McDonalds. The B.C. interior city has a younger population, high median disposable income and no other established express tunnel style car wash chains as well as high-employment. The Express Auto Spa launched with a 165-foot tunnel (Sonny's 160EDT Hybrid) that was sourced and installed by Wash pros, Sonny's Alberta-based distributor. Inside, systems include full water reclaim and customers are treated to Diamond Shine chemicals to create what Jamal claims is the best clean in BC. Cost for developing the 1.3-acre parcel of land into a 450+ storage locker site and car wash is approximately $15 million (the wash site alone is approximately $4 million). The total building envelope is about 50,000 sq. ft. with 4000 sq. ft. dedicated to the Express Auto Spa. 

The Kamloops' tunnel system is capable of washing, waxing, sealing, tire shining and drying up to 160 cars per hour. The site offers a range of wash options purchased at automated touch-screen drive-through kiosks. Prices go from $8 to $19 for a three-minute wash with levels that include Bronze (complete wash and dry), Silver (Bronze plus triple foam polish and clear coat), Gold (Silver plus tire shine, undercarriage wash and rust guard protectant) and Platinum (Gold plus lava foam and waterfall rinse). Add-ons include Rain X and Armor All Extreme Shine for about $3 each. Monthly subscriptions are also available with Platinum Unlimited ($44.95/month) and Bronze ($29.95/month) services. The site also features eight vacuum stations.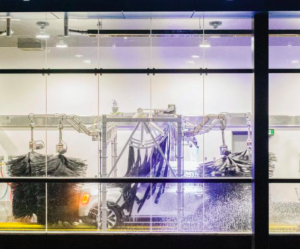 According to Jamal, an experienced industry pro who came over to NationWide Self Storage from Shine Auto Wash, once you have the package together and the equipment is up and running it's all about the staff competencies and how they interact with customers. "You have to have the best training and staff must be empowered to complete the mission. Customer service and satisfaction are paramount. This is how we drive results," he says, adding that they have been able to hire personnel with experience. "We are lucky to have industry veterans who enjoy the process and are good at what they do. It makes a difference when we are busy and have to quickly load cars onto the conveyor. Our guys know how to get this done fast and this improves volume. We are also committed to keeping our customers happy. If it's not a great clean and shine we have a rewash policy that is targeted to create 100% customer satisfaction." 

Community is also key to success NationWide. "To be a success in any market you must be more than the sum of your parts. You have to go the extra distance to show your support. This is why we used our Grand Opening period (July 20-31) to partner with Royal Inland Hospital. Over the first two weeks we raised over $25,000 and donated this to the hospital for use acquiring PPE for their staff," says Jamal concluding that being part of the community through networking and being responsive to the environment is just part of doing good business.