What does your bathroom say about your business?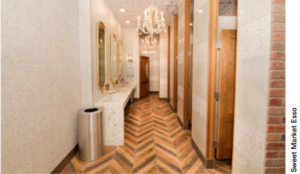 When it comes to service station satisfaction restrooms have been a source of customer appreciation since the invention of the automobile.
Back in 2016 the Whitecourt Esso Superstation won Canada's Bathroom of the Year Award from Cintas and helped to showcase the power of a great gas station restroom. The site is located on Highway 43 between Edmonton and Grande Prairie on a route popular with tourists heading up to Alaska.
"We can have as many as 1500 customers a day pass through here and many people comment on how surprised they are by the quality of the bathrooms," says Whitecourt ESSO GM Shelby Rondeau. She remarks that the extra effort in decor made by site owners, the Hommy family, has paid off with benefits being seen in returning trade.
Shelby reports that they receive constant comments on the quality of the site. "We have a lot of customers who are driving through from places like Texas. The marble and the chandeliers in the women's restroom have earned a lot of positive attention from these folks, of whom many have told us they look to the Whitecourt Superstation as a stopping place each year on their holiday drive. They see other facilities on the way and their comments tell us they see us as the best in bathrooms."
The Whitecourt Esso opened in 2015. The site offers eight gas and two diesel dispensers under the canopy as well as a substantial foodservice component that relies on a scratch kitchen. The manager tells OCTANE that they have staff perform a 45 minute deep clean twice a day and staff check the three (handicapped, men's and women's)10-foot by 15-foot (approx) bathrooms every hour to look for cleanliness challenges.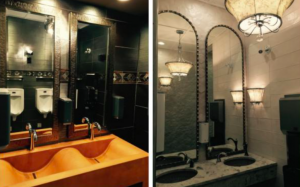 In Red Deer, the ESSO Sweet Market is another example of how operators can use restroom facilities to create a positive guest experience. This station, located in Red Deer's Gasoline Alley, is also operated by the Hommy family and opened only last Christmas (2018).  According to Sweet Market Manager Tim Anderson, the owners are serious about bathrooms. "The family has traveled a lot and they saw how important clean, comfortable and well-decorated facilities can be. I'd say they did this for their moms who saw lots of restroom horrors when they were traveling."
Tim comments that what they have found is that a well-tended bathroom is respected by customers. "When the facilities are clean and maintained people don't throw things on the floor or leave a mess. They treat it like home."
Inside the Sweet Market site, they use both paper towels and air hand dryers to provide a choice for guests. Decor includes fully tiled walls and floors, hand-carved doors, chandelier lighting, and even smart glass doors that frost over for privacy when in use. Facilities are deep cleaned every 12 hours and checked routinely during the day to make sure everything is in tip-top condition.
Pilot Flying J is spending more than $100 million to enhance the bathroom experience for its customer base at some 650 locations throughout the US and Canada. Improvements include new Italian tile, state-of-the-art LED lighting, low water consumption toilets and eco-friendly dryers not to mention extra thick towels.
According to Pilot Flying J spokesperson Stephanie Myers, the company strives to make the restroom and shower experience as comfortable as possible. "Our new locations include clean, bright restrooms and spacious, private shower rooms with premium towels and quality shower heads with body wash dispensers. This year, as part of our effort to enhance the restroom and shower experience for our guests, we plan to upgrade our shower facilities and bathrooms at two locations in Canada including Winnipeg-Brookside, MB, and Kapuskasing, ON," she says, adding that drivers can save time waiting for a freshly cleaned shower by reserving their shower with the Pilot Flying J app.