You are serving the needs of Canadians during the COVID-19 crisis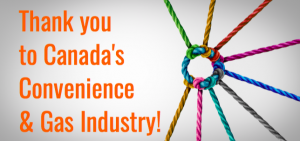 Dear readers,

It's an extraordinary time for individuals and business owners across Canada and around the world. The team at Convenience Stores News Canada and OCTANE want you to know that we recognize and support the dedicated work you and your staff are doing to meet the needs of Canadians: Thank you!

As the COVID-19 crisis unfolds, we are committed to keeping you up-to-date on the latest news and developments impacting the convenience, gas and car wash industries.

Our editorial team is sharing critical information via our e-newsletters, website, social media platforms and the upcoming May/June issue of the print magazines.



If you are not already receiving our free e-newsletters, you can  sign up here.



We continue to update our website with the latest news and information, so please bookmark and check in regularly.



During these challenging days, it's vital to stay connected and share experiences. How is COVID-19 affecting your business? How are you and your teams standing up to the challenge of supplying food and other essentials to Canadians? We have created an online portal where you can share your stories, insights and questions.


Also, our advertising team is on hand to discuss your business challenges and opportunities. We're ready to collaborate on strategies to help you communicate with your retail customers and industry decision makers.

At Convenience Store News Canada and OCTANE, we know there's no such thing as working from home when you operate a convenience store, gas site or car wash. Thank you for everything you are doing to serve Canadians and know we are committed to doing whatever we can to help.

Keep up the amazing work and please stay in touch.



Sincerely,

The Convenience Store News Canada and OCTANE team



Elijah Hoffman, Associate Publisher: [email protected]

Michelle Warren, Editor CSNC: [email protected]

Kelly Gray, Editor OCTANE: [email protected]

Chantal Barlow, Senior Business Development Manager, CSNC: [email protected]

Michael Cronin, Vice President, Events: [email protected]