01/02/2013
5 ways to capitalize on candy growth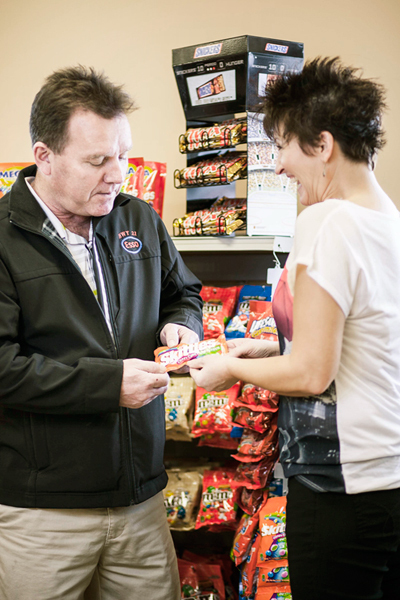 When you talk about a kid in a candy store, there's a strong chance you're referring to a convenience store, based on the fast-paced growth of candy confections in the c-gas channel. In fact, candy is growing more rapidly in national C&G than it is in any other channel.

The candy category in national C&G is worth $44.5 million, growing at a rate of +8%, which means it's outpacing national all channels' +1% growth. These numbers suggest kids aren't the only ones buying candy SKUs at their local c-stores, and that candy offers an exciting opportunity for c-gas retailers.

To win with candy, ensure you know which SKUs and formats new and loyal customers alike expect to find on your shelves. Fruit is the most common candy flavour sold in the national convenience-gas channel, with $31.9 million in sales and a growth rate of +3%. The peg bag candy segment is also on the rise, with a growth rate of +10% and $27.1 million in sales in national C&G.

Take advantage of these growth areas by maintaining a full stock of fruit-flavoured SKUs, integrating fruity innovation that leverages existing strong brands, and carrying multiple formats, including sharable sizes. Singles SKUs have habitually encouraged candy channel growth, but larger formats have shown they also deserve a starting position on your candy roster. Innovation helps maintain regular customers and bring in new recruits.

Core brands like Maynards, Skittles, Wonka and Starburst offer the SKUs your candy customers are looking for, so give these bestsellers prime placement in your front-end planogram, along with additional space in a secondary display.

It's also important to regularly update candy planograms to suit your customers' changing candy tastes; stay true to your core brands and SKUs, but remember to rotate new flavours and items through the lineup to mix things up for your regulars.

Suppliers run major consumer promotions that can increase excitement around candy brands, so work with your sales reps to properly plan and execute in-store activity. These promotions can significantly increase your sales lift when aligned with media campaigns, and when the message is communicated loudly and clearly using point-of-sale materials.

Use the resources at your disposal, especially your sales reps, to keep up to date on trends, innovation, and any consumer promotions that will improve your in-store environment and get your customers as excited as ... kids in a candy store.

Insights provided by Sandy Purdy, customer innovation manager at Wrigley Canada

Top tips for capitalizing on candy growth

1. Allocate space. The convenience-gas candy category is growing, so make ample space for candy SKUs at your front counter and on secondary display.

2. Watch the trends. Offer the most sought-after flavours and formats, and emphasize their importance using prime placement and POS materials.

3. Follow the leader. Keep your top sellers in stock so your regulars need never shop anywhere else.

4. Keep it fresh. Regularly update planograms by incorporating new flavour trends and removing underperforming SKUs.

5. Time it right. Align promotional activity with major consumer promotions to send a strong and consistent message.

All statistics sourced from: Nielsen MarketTrack, National All Channels, Latest 52 weeks, period ending Dec. 29, 2012.