Canopy Growth opens cannabis stores in Alberta
Canopy Growth Corp. is preparing to open its first retail cannabis stores in Alberta.

The Ontario-based company is to open 10 stores under the Tweed and Tokyo Smoke banners and has additional locations in the pipeline.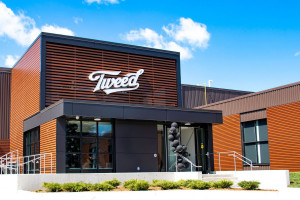 "With 10 new stores set to open and additional locations in the pipeline, we are thrilled to announce this milestone and excited to bring the Tokyo Smoke and Tweed guest experiences to Alberta for the first time," Grant Caton, general manager Canopy Growth, said in a statement. "We've seen the value brick-and-mortar retail brings to our consumers – welcoming new guests to learn about cannabis and building relationships in new communities – and we're excited to share our knowledge and industry leadership across the region."

The stores include seven locations in Calgary and one each in Spruce Grove, Lethbridge and Edmonton. Canopy says it will create more than 100 jobs in Alberta.

The following retail locations are set to open their doors this week:

Tokyo Smoke:



Unit 100, 4310 MacLeod Trail SW, Calgary, AB


418 16th Avenue NW, Calgary, AB


Unit 101, 1022 17th Avenue SW Calgary, AB


3011 14th Street SW, Calgary, AB


Unit 204, 131 Century Crossing, Spruce Grove, AB


Unit 104, 1020 9 Ave SE, Calgary, AB



Tweed:



8650 112 Ave NW, Calgary, AB


Unit 122, 425 Aviation Road NE, Calgary, AB


Unit 130, 333-6th Street South, Lethbridge, AB


10431 82 Avenue, T6E 2A1, Edmonton, AB



Canopy is one of Canada's largest cannabis producers and retailers. In February 2019, Couche-Tard Inc. entered into a multi-year agreement with Canopy Growth. Through this partnership, the convenience giant said it planned to "lean on Canopy Growth's cannabis expertise and leverage its experience with other age-restricted products to focus on the safe, responsible and lawful sale of cannabis, consistent with the  legislation enacted by the federal and provincial governments."

Quebec-based Couche-Tard is vying for a piece of the North American market and is investing heavily, including a partnership with Alberta retailer Fire & Flower. This summer, the cannabis retailer co-located two locations with Circle K stores.

Canopy Growth says its expansion into Alberta will bring its number of retail locations across Canada to a total of 50, with more planned later this year.