Dépanneur Peluso carries 1,100 kinds of craft beers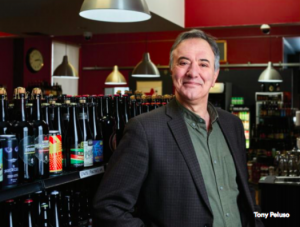 Tony Peluso, owner of two specialized convenience stores in downtown Montreal (with a third store in the works) believes the key to his success is keeping up with the times.

"If you don't follow and adapt to changes in your customers' tastes and expectations you're falling behind—simple as that," he says from the office above Dépanneur Peluso, his original store in Montreal's trendy Le Plateau district.  

"Same thing with retail practices.  When you walk into a Walmart you really get an idea on how to operate."

It's a lesson Peluso learned the hard way in the early years of a c-store career that spans four decades.

Born and raised in Montreal's north end, where his parents settled after immigrating to Canada from Italy, Peluso grew up wanting to be a writer.

Instead, in 1979, with financial backing from their father, he and younger brother, Mario, opened a bakery in Le Plateau-Mont-Royal.

Three years later, the brothers closed the business and opened a convenience store in one of the two adjoining buildings their father owned on nearby Rachel Street.

"It was my idea," recalls Peluso.  "In those days dépanneurs were going into baking bread, which helped to kill our bakery business.  So we opened our own c-store and set up a bakery and deli section in it."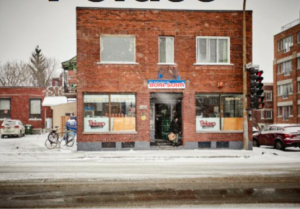 Affiliated from the get-go with Quebec's Boni-Soir banner, which supplied groceries, beer and other c-store products, the 2,400-sq.-ft. store struggled to survive in an area replete with grocery stores, specialty food stores, cafés, coffee shops and rival dépanneurs.

Peluso's brother exited after a year, leaving him and a lone employee to operate the store every day from 7 a.m. to 11 p.m.

"The business was not doing well and I was advised to go bankrupt," says Peluso.  "But, I said no, I was determined to make it work."

In addition to negotiating deferred payments from suppliers of up to 90 days, Peluso got deals from the two brewery behemoths of the day—Labatt and Molson—on 12- and 24-bottle cases of beer.

"That really helped because this is a residential area with lots of young renters," says Peluso.  "And I'm one of the only stores in Le Plateau with a parking lot. That's a big advantage."

As sales picked up, Pelusso started hiring more staff.  He also found time to get married and have a daughter, Julia, now 17.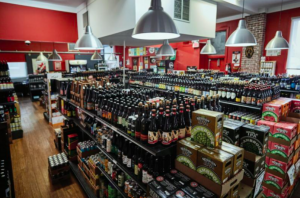 Business really started booming when Peluso followed the advice of an employee, who was convinced craft beer was poised to be the next big thing.  

"I started contacting all the microbrewers in Quebec and adding their products," said Peluso.

He also spent months visiting government-run liquor stores to see how they merchandised wine.  "I did the same thing here with beer," says Peluso. "That really opened my eyes on how to run a business (and) helped get me out of my slump."

Craft beer sales proved so popular that Peluso expanded into the adjoining building—adding another 2,400 sq. ft.—and made it into a beer store.

Today the store carries 1,100 kinds of craft beers from 100-plus Quebec microbreweries (including non-alcoholic brands, which Peluso says are becoming increasingly popular), plus full lines of domestic beer and some imported ones.  

"I'm very proud of that," says Peluso, who plugs his vast craft beer selection with regular updates on social media.  "It's our trademark."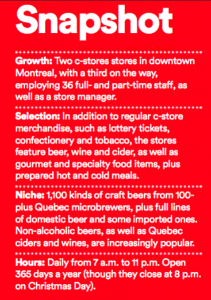 Peluso is equally enthused by the success of a second store he opened on Beaubien Street in Montreal's Little Italy district in 2016.

The aptly named Péluso Beaubien is as much a small specialty grocery store as it is a c-store, selling fine meats, cheeses and charcuterie, in addition to Quebec-made beers, wine and cider.

The store also has a kitchen, a sit-down counter and a chef, who creates a weekly menu that features hot and cold food items. 

"I knew the area was going to be important for me because the Italians there were getting older and were moving out and millennials were moving in," says Peluso, whose stores employ 36 people and are managed by Pierre-Luc Gagnon.

Peluso is now planning to open a 6,000-sq.-ft. store in Le Plateau, where he can add Quebec ciders and wines, which he says are becoming increasingly popular.

"I don't have the space at the old store to add them," says 59-year-old Peluso, adding the new store will be his last project. "I'm going to own it but not operate it. I'll leave that to others."