District Ventures supports food entrepreneurs with new incubator kitchen
Nearly a year after it ran out of funding and abruptly closed its doors, Food Starter has had something of a kitchen reno.

The Toronto-based, non-profit incubator, which helped food entrepreneurs commercialize and scale the development of their products, is now owned and operated by District Ventures–the business accelerator headed by Canadian businesswoman and TV personality Arlene Dickinson.

The newly-minted District Ventures Kitchen remains in the 20,000-sq.-ft. shared food-safe production space once occupied by Food Starter, which is nestled in an industrial area of Toronto's north-west end. The incubator will continue to offer early-stage food companies access to a commercial kitchen and marketing assistance, among other services, to help them scale.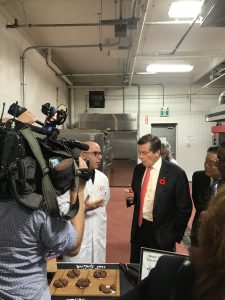 "Access to commercials kitchens like this is rare and difficult in this city and across the country, so keeping this alive was a big mandate for us … " said Dickinson during grand opening celebrations Monday morning.

"We are very excited about what this means for our ability to really make a difference in agri-food. We talk a lot about diversifying our economy, and to me, agriculture and the development of food products and food innovation is incredibly important to our nation's future,"

Food Starter shut down in December 2018 after funding from the province dried up and organizers were unable to secure additional funding from other levels of government or corporate sponsors. Today, District Ventures Kitchen is launching with private sector support from Sobeys and Chartwells Canada.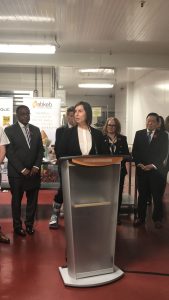 "We understand just how important it is for customers to be able to access locally grown and produced food and we try to make that easy for our customers by identifying local products at store, in our flyers and online. And as I walked around here this morning I was so proud to see so many suppliers are already on our shelves," said Jana Sobey, vice-president of merchandising, community, Thrifty Foods and Field at Sobeys.

The Greenbelt Fund and the City of Toronto are also financial supporters of District Ventures Kitchen. Toronto Mayor John Tory was on hand for the opening and tour of the production facility, which allowed members of the media to sample products from the brands directly benefitting from the reopened test kitchen.

One such brand was Miura–a brewed hot and then flash-chilled, Japanese-style iced coffee that is now available in Sobeys, Whole Foods Market, Metro and Longo's. "Every single can I have brewed and canned here," said its founder Adam Lewis. "This is where the magic happens and it's been such an entrepreneurial journey."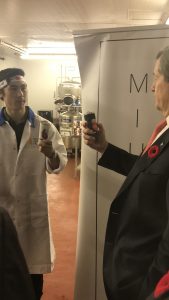 Addressing the crowd, Tory said he was confident District Ventures Kitchen would be taken to unparalleled heights thanks to Dickinson, "who is herself not just a business person but an exciting entrepreneurial person who has other people lined up around her and has the profile to carry this forward."

District Ventures has been helping support early stage food, beverage, and health and wellness companies in the consumer goods space in Canada since it launched in 2015. In all, District Ventures has supported nearly 300 companies and helped create close to 1,000 jobs, said Dickinson.

One of the company's recent ventures is a partnership with Sunterra Market and Café in Calgary on a 2,800-sq.-ft. store that carries nearly two dozen Canadian food and beverage products that were developed out of District Ventures including, Chickapea Pasta and Drizzle Honey.

Originally published by Canadian Grocer.