03/01/2021
Former Nestlé Waters CEO joins Ontario's Flow Water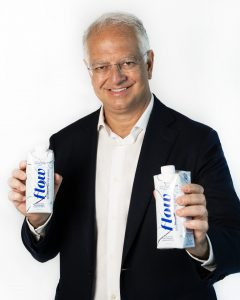 Maurizio Patarnello, who spent almost three decades with Nestlé,  is now CEO at Flow Water Inc. He takes the lead as founder and CEO Nicholas Reichenbach moves into an executive chairman role.

Patarnello is being tapped to play a key role in scaling Flow to "meet its goal of becoming one of North America's premier sustainable mineral spring water and wellness beverage companies," according to a release.

Patarnello joined Nestlé in 1993. During his tenure he assumed various positions of increasing responsibility around the world, including throughout Western and Eastern Europe, Asia, and the Middle East. In 2017 he was appointed CEO and Chairman of Nestlé Waters, a role that he held through the end of 2019.

He has deep expense in the bottled water business, having significantly contributed to Nestlé Waters' growth of brands such as Nestle Pure Life, Perrier, San Pellegrino, Acqua Panna and Poland Spring. He is also "a pioneer in the global consumer health movement from carbonated soft drinks to bottled water."

READ: Nestle sells bottled water business

Patarnello's appointment comes weeks after Flow Water announced it's plans to go public in late spring.

"It is incredibly energizing to have someone of Maurizio's stature and expertise join the Flow family, and his leadership will help us accelerate our growth, hone our strategy and execution, and scale our business in North America," Reichenbach said in a release. "His experience in the premium bottled water space and his business acumen will be invaluable as we build Flow together into a leading North American mineral spring water and beverage brand. I'm proud to have led Flow from its inception to being a high-growth company that is now ready to go public and am so grateful be able to hand the reins to such a seasoned executive like Maurizio, while taking on a new active role as Executive Chairman."

Flow Water is sourced from a family-owned spring in Ontario's Bruce County, and is positioned as an eco-friendly alternative to traditional bottled water.

"I am thrilled to join the highly professional and dynamic executive team and lead Flow with Nicholas and the Board, as we stand on the precipice of an important evolution of the company and of water and beverage aisles across North America," Patarnello said, adding: "Flow has tapped directly into the modern consumer's desire for high quality sustainable water and functional beverage products and is poised to be a market leader in the space. Accelerating Flow's growth will be our main goal in the coming years. I expect great things to come."