The great car wash debate: Touchless versus friction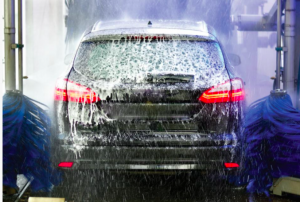 To touch or not to touch—that's the question for many car wash customers. And, many of these customers ask whether 'tis nobler in the mind to suffer the slings and arrows of the automated tunnel wash or to take arms against a sea of troubles and go with the touchless express option.

Were Hamlet alive today, what option would this prince of Denmark seek out to gleam his ride?

Both formats come with pros and cons and each operator has to understand their unique market to determine which is right for their customer base. 

"The oil companies are the largest operator group of touchless systems in Canada," says Bill Barber of Mississauga, Ont.-based Washlinks, a leading equipment supplier to the trade. He believes companies such as Suncor and Co-op use touchless rollover wash systems because of the small footprint involved with express installations and the opportunity to greatly limit surface damage. "Touchless rollover systems are less costly to build and are less challenging to operate. This makes a good fit for sites where companies want to keep staffing levels and costs down."

 Where touchless systems often fall short is speed and volume. As Barber points out, that there are two ways to make more money in the car wash business: One is to increase the number of washes per hour and the other is to increase the average revenue per vehicle. Touchless express rollover systems can typically run about a dozen cars per hour, however a standard friction tunnel with a conveyor accommodates one car per foot of tunnel per hour. 

"With a tunnel wash, volumes are considerably higher and the outcome is often superior to what a rollover touchless system can achieve," he says, adding that oily residue following a rain can be very hard to remove from vehicle surfaces without the aid of brushes and soft cloth scrubbing.

Alberta-based car wash operator Sylvain Blouin, president of Rock-N-Wash, says touchless wash sites can deliver customer satisfaction, but operators must pay attention to the details. "If designed properly with sufficient chemical dwell time, a wind door to allow a two stage—acid and alkaline—presoak chemical application during the summer months, and with the right high-pressure impact water, as well as the proper front and rear bumper application, and excellent chemical selection, yes, I would consider it. That said, during the summer months, with road film and bugs baked onto clear-coat paint finishes, friction is often the only way to remove everything." 

Blouin says that if touchless sites are not designed properly, they can be a challenge for the operator.  "If the design is incorrect and the chemicals don't have enough dwell time to do what they are designed to do, it does not matter what technology is used, the results won't be great. An operator should look at the design first, then the technology."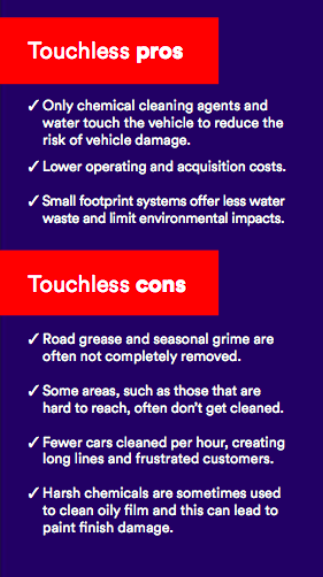 He knows what he is talking about, having operated a touchless tunnel for four years. "At first, we were not achieving the same results as friction because our original design was incorrect. It was painful, but after some layout and chemicals and applicator changes, we were able to achieve results as good as friction. With only water and chemicals to work with, touchless is definitely more challenging to operate, however, many consumers do prefer this format because it tends to be more gentle on vehicle surfaces.

His new site, which is to open in 2020 in Sherwood Park, just outside of Edmonton, will offer a hybrid system with both friction and touchless options.

 According to Blouin, both systems have their benefits and he wants his customers—be they Hamlet or the Wilsons from around the corner—to have that choice. "In the end it's all about customer service and meeting unique needs," he says, emphasizing operators must know their customers and then deliver the services they demand. Success follows.
Originally published in the November/December issue of Octane.