Greenergy brings new forecourt brand to Canada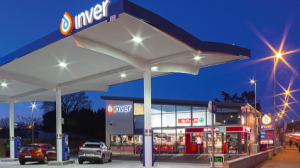 Greenergy is introducing the Inver forecourt brand to Canada, with the opening of three new sites.

The first Inver sites are now open in Ontario, with locations in York, Etobicoke and Burlington, with a further two sites to open in Thunder Bay in December.

Inver Energy is a wholly owned subsidiary of Greenergy in the Republic of Ireland.  According to a release, the Inver brand "has proved extremely popular in that market, growing organically to become the country's fastest-growing forecourt brand. Based on the success of the format, Greenergy has now decided to make the Inver brand available to customers in Canada."

The Inver brand extends Greenergy's existing retail offer in Canada, where Greenergy has developed Breakaway, a hockey-themed forecourt brand tailored to Canadian consumers.

"Our unique supply chain infrastructure, supply dependability, superior service and customer-centric focus are powerful differentiators in the retail fuel industry," said Mike Healey, CEO of Greenergy Fuels Canada. "The addition of Inver to our branded retail offer strengthens our ability to best meet dealers' needs and, as a partner in their business growth, to fuel their success."



Established in the UK 27 years ago, Greenergy is a supplier and distributor of transportation fuels. The company entered the Canadian market in 2013 and has since invested in strategically important infrastructure assets across Ontario, includging Concord, Hamilton, Thunder Bay and Johnstown (opening in December).  With both sea and rail-fed terminals and storage in the US Mid-West, Quebec and Ontario, Greenergy can source product through multiple channels, thereby reducing dependency on any one third party provider and minimizing the risk of supply disruption for customers.

Now Greenergy is expanding sales to the retail sector. Inver is an established brand in Ireland and was  acquired by Greenergy in October 2017.  The 35-year-old company is one of the leading importers of fuel into Ireland and launched its retail brand there in  2012: There are now 61 Inver forecourt locations across the country.