Meet the Canadian Carwash Association's new Board of Directors
The Canadian Carwash Association officially unveiled its Board of Directors for 2019/2020, introducing a mix of new and familiar faces. Here they are:



Chris Armena is the national sales manager for Mark VII, which is based in Grimsby, ON. The mechanical engineer joined the company in 2016 and prior this spent all 18 years of his career working in the petroleum industry for Total Oil and Chevron: 14 years on the corporate side and four years on the entrepreneur side running his own Chevron Gasoline Station and Xpress Lube franchise. He is excited to be working in the car wash industry and is looking forward contributing for years to come.





Morgan Arnelien is the car wash program co-ordinator for Federated Co-operatives Limited, where he is based in Saskatoon, SK, providing guidance and strategic direction for more than 130 Co-op car wash locations across the Prairies and Western Canada.  Prior to his current role, he was the energy marketing co-ordinator at FCL, where he was responsible for developing car wash and gas bar marketing campaigns.  Now he is excited to offer his Western Canadian perspective and add value for CCA members.





Jeff Beam is with Ajax, ON-based Mondo Products Company Ltd. He started in the car wash industry 40 years ago as an attendant at a Gulf Oil car wash in Kitchener, ON.  After a successful 17 year management career with Petro Canada, he transitioned into car wash chemical sales and service.  As a 23-year veteran of car wash chemical technical support, he has gained a wealth of experience in tunnel, roll over, coin operated, friction and touchless car washes, frequently travelling across Canada and the U.S. to help customers with their wash chemical needs.





Cristina Caruso is the national category portfolio manager for car wash marketing at Suncor Energy. She joined the company in 2000 and has filled a number of positions, ranging from sales to operations and marketing. Since 2011, she has been in category management with Suncor: She started on the convenience store side of the business and for the past year and a half has focused on car washes. She finds the car wash business very exciting and is looking forward to collaborating with all of the team of members.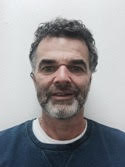 Domenic DiMonte of Crosstown Car Wash has been in the car wash business for more than 30 years, operating a family business with his brother. His father worked in the car wash industry for more than 60 years (starting in the 1950s) and he purchased his first car wash in 1978: Domenic and his brother have been running it ever since. It started as a full service car wash, but has since expanded into express exterior car washes and coin washes. Today, he owns and operates one full service wash, two express exteriors, one coin wash and a busy detailing centre. As a result, he knows most of the manufacturers and suppliers, as well he has a breadth of knowledge in spotting developing trends in the industry.





Sameer Haidari is category manager, Circle K, in Scarborough, ON. He has worked in with Circle K since 2013 and handles all operations within Central Canada. During his time as an analyst for Circle K, he capitalized upon every opportunity that involved analyzing and generating insights regarding car wash trends and the industry as a whole. His profound understanding of the operations and delivery of car washes has resulted in him managing hundreds of car washes for Circle K. He hopes to contribute to the continual development of the car wash industry by providing leadership.





Jason Kaye of Bayview Car Wash Ltd. has been part of the industry his entire life and now represents the third generation in the business. Since 2008, he has been actively involved in two successful full-service locations: Bayview Car Wash and Doctor Car Wash, both in Toronto. He is a dynamic and entrepreneurial leader, which assists him in managing more than 30 employees and dealing with the public on a daily basis. As president of the Canadian Carwash Association, he is supporting and representing the growth of the car wash industry in Canada.





Sean McBride is a member of the key account team at Lustra Vehicle Car Care, a division of Cleaning System Inc.  Previously, was with Belanger, Inc. for 13 years, eight of which managed the Tunnel product line division.  His car wash career began at age 15 and he worked for more than eight years helping manage a high-volume tunnel in Michigan, gaining a hands-on understanding of tunnel operations.





Kirsten Vaive is a relatively new to the car wash industry – having been hired in late 2015 to join start-up company CarWash Finder: a mobile payment, marketing and loyalty solution for carwashes where you can find, pay and activate a wash all from your phone. Her previous expertise was in the commercial lending sector where she was heavily involved in financing carwash equipment for various sites across Canada.  A degree from Western University's Ivey Business School provides a solid background in strategic business development.  She is very excited to join the Board and is passionate about helping the organization fulfill its mission.







Karen L Smith is training and compliance manager, Valet Car Wash in Kitchener, ON. She started her career with Shell Canada in 1993 as a retailer; operating gas bars, convenience and car wash.  Served on the Shell training team, she assisted with new POS role out and new retailer training in Ontario and Alberta. She joined the Valet team in 2012.   After learning the ropes of a flex-service car wash and running a site for almost a year, it was clear the site managers were overwhelmed with the daily operations of a car wash, leaving little time to concentrate on all the other details of running a business.  Her role quickly developed into training and compliance manager.  With the ever changing and additional rules and regulations on labour laws, health and safety and compliance, it became a full-time job keeping up with new information, developing policies and procedures and enhancing the health and safety program.  She previously served on the CCA board from 2002-2004.





Mark Vella of 7-Eleven has been in retail for close to 40 years, working in department stores, mass merchants and now the fuel and convenience store industry. He joined 7-Eleven in 2009 and has worked in merchandising as a category manager and in operations as a market manager for Southern British Columbia. When 7-Eleven acquired the British Columbia and Alberta assets from Imperial Oil in September of 2016, he was appointed national fuels manager for Canada.





Rudy van Woerkom of Belvedere Technical Service Ltd. started in the car wash industry in the mid 80s, providing vehicle access control equipment in Calgary. He then spent seven years servicing industrial laundry equipment. In 2000, he started Belvedere Technical Service to get back into access control and this led to servicing car wash equipment. While Belvedere Technical Service Ltd. is a distributor for D&S car wash equipment and Airlift Doors, they service all makes of equipment. After many years servicing and installing equipment, he acquired Big City Auto N Truck Wash. Operating this 12-bay with automatic car wash give him two perspectives of the industry: By becoming a CCA director, he hopes to use this "double-edged" experience to help industry members see the benefits of the association.





Tim Walker is owner of Revin Media, which is based out of Dundas, ON.  Revin Media was established in 2004 as a marketing and branding company and its primary focus is on creating a consistent, customer-focused brand strategy to help companies achieve their fullest potential. Currently specializing in the car wash industry, previous clients have come from a variety of sectors, including food and education. From brand concept to design, design imaging, site signage, marketing, printing and installation, countless clients have realized significant returns from implementing the company's leading edge, branding and marketing initiatives.