Online marketing: Be where your customers are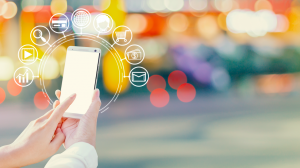 How can a business offering products or services raise their reputation and visibility in the marketplace?

The answers aren't the same as they used to be. In fact, research shows that when people check out product or service businesses, more than 80% use online sources of information compared to 55% using traditional references.

There's no question that, in the modern business landscape, whether you're a major corporation or a small business owner, a big part of your marketing strategy should be digital. Consumers are almost always online—and retailers want to be able to reach them and observe their behaviour where they spend the most time.

The reality is that in today's content-driven online media world, while you may view yourself as c-store operator, a CPG marketer or a supplier, you're also a publisher.  You must provide relevant content for your customers and potential customers, who, according to research from Ipsos, spend more than 10 hours a day consuming media in a variety of channels.

If you have no online presence, you don't exist

Do you know how your business or how you yourself are appearing and coming across online? Your marketing plan must include building your online presence: You simply can't operate a store or offer a service without a website and you cannot grow your brand without content.  

Content marketing contains all marketing strategies that focus on sharing information. It is an important aspect of an effective SEO strategy. SEO stands for Search Engine Optimization: It's the practice of optimizing websites to make them reach a high position in Google's—or other search engines'—search results. SEO focuses on rankings in the organic (non-paid) search results.

Google's mission is to organize the world's online information and make it universally accessible and useful. Google wants to show its users the best result for any keyword. If you want to rank for that keyword—such as 'convenience'— your aim should be to be the best result. It is attainable over time with a consistent effort of relevant content.  

Monitor your online presence

One key activity is to Google yourself and/or your business on a regular basis. What do you see? Anything interesting? Your online presence is something you're going to want to monitor on an ongoing basis and improve upon whenever and wherever possible. 

The objective should always be organic results. And one of the best ways to achieve that is to start a Google My Business profile. Sign up is free and your business profile appears right at that key moment when people are searching for your business or businesses like yours on Google Search and Maps. You can even setup and build a website using their free website builder tool.

Customers can also review businesses and you can respond to Google reviews. Reviews are a powerful and effective way to boost your organic results. Online reviews help your business grow, recognize employees and help others learn about you.

Add email marketing to the mix

You might think that email marketing is dying or dead, but this is a myth. Even in 2019 people still open emails: With the broadest reach, lowest cost, easiest measurability and highest conversion rates, email still dominates online marketing channels. Studies show that email offers the highest return on your marketing dollars.

The same rules used in social media need to be followed.  Authenticity, target market and relevant content worth reading are essential. People's inboxes are inundated. Get it wrong and you risk losing them for good. 

There are no second chances. 

Craft a strong message

Your message is what can make or break an online marketing campaign. Encourage readers to open your website, email or social media post by delivering a message that informs, entertains, and resonates. Create a catchy and meaningful website landing page or subject line with three or four strong key words and have a short lead-in sentence that will entice people to keep reading or offer value with promotions or useful information, like tips of the week.

When done well, online marketing is an effective way to communicate with your customers. It's inexpensive, convenient and easy to track. Ensure that you develop an online marketing strategy that respects Canadian laws and targets your customers with the right message.

While the initial push may look and feel like marketing, the real outcome is an online community—this builds loyalty and trust with consumers, which ultimately drives traffic to your store. 

Gerry Spitzner helps retailers develop marketplace strategies to create, engage and keep customers for life. For more information about his approach, connect at [email protected].