Path to Purchase Expo presents a roadmap for transformation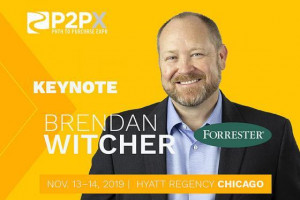 Brendan Witcher, a principal analyst with market research company Forrester, will provide attendees of the 2019 Path to Purchase Expo (P2PX) with a roadmap for transformation.

Witcher, who serves as vice president/principal analyst, digital business strategy at Forrester, will discuss how companies can evolve for the future when he delivers P2PX's closing keynote. The title of his presentation is: "Digital Mastery: A Roadmap for Transformation in the Age of the Customer."

Hosted by the Path to Purchase Institute, this year's Path to Purchase Expo will be held Nov. 13-14 at the Hyatt Regency Chicago. P2PX is the world's largest gathering of brand manufacturers, retailers, agency professionals and solution providers for marketing to shoppers.

Keeping the needs of consumers in mind, along with the competitive market, Witcher will tackle:



What drives strategic digital transformation, and what must be addressed to achieve success?


How can companies tie a roadmap for change to the specific needs of their customers?


Which technology investments are leading brands making today in order to future-proof themselves for tomorrow?



Witcher previously served as a keynote speaker for the 2018 Path to Purchase Expo, where he outlined four new retail imperatives centered on omnichannel commerce. He has earned the distinction of becoming a Path to Purchase Institute faculty member.

The lineup for the 28th annual Path to Purchase Expo currently boasts more than 100 speakers on five stages and 75-plus solution providers on an all-inclusive show floor. This year, all events are taking place within a uniquely collaborative environment that brings all of the education, exhibits, meals and snack breaks into one "campus." For more information and to register, visit path2purchaseexpo.com.

Both the Path to Purchase Institute and Convenience Store News Canada are properties of EnsembleIQ, a premier business intelligence resource that believes in solving big problems and inspiring bold ideas.