11/26/2019
Q&A: Greenergy CEO Mike Healy discusses Inver launch
Greenergy has extended its fuel supply offer to independent fuel retailers in Canada by introducing the Inver marquee to its choice of forecourt brands.
Inver Energy is a wholly owned subsidiary of Greenergy in the Republic of Ireland where it has grown to become the country's fastest-growing forecourt brand. It is this success that has prompted Greenergy to introduce a new face to Canadian roadside fueling.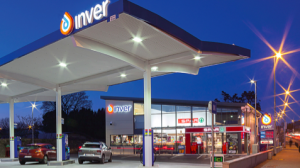 Greenergy Fuels Canada is a supplier and distributor of transportation fuels with terminals in Ontario in Concord, Hamilton, Thunder Bay and Johnstown (opening December 2019). The company uses both sea and rail-fed terminals and storage in the US Mid-West, Quebec and Ontario to reduce supplier chain challenges and enhance dependability.
The Inver brand extends Greenergy's existing retail offer in Canada, where it has developed Breakaway, a hockey-themed forecourt marquee tailored to Canadian consumers. The first Inver sites recently opened in York, Etobicoke and Burlington, with a further two sites to open in Thunder Bay in December 2019.
We asked Greenergy Fuels Canada CEO Mike Healey about the new brand and how it will work within the company's growing Canadian portfolio.
OCTANE: What is it about Inver that has attracted such promising early attention?
 Mike Healey: When we first saw Inver, we viewed it as visually distinctive and saw the opportunity to create something new here in Canada that would offer a unique brand to the market. Inver is a tried and tested international brand with a local mindset, where community matters.
I think Dealers are attracted by this and they like the fact that Inver is backed by Greenergy with a strong value proposition founded upon dependability, good price, and clean and safe forecourts. Our unique supply chain infrastructure, supply dependability, service and customer-centric focus are powerful differentiators in the retail fuel industry. The addition of Inver to our branded retail offer strengthens our ability to best meet dealers' needs.
OCTANE: Does the Inver launch impact Greenergy's Breakaway brand expansion?
Mike Healey: No, the Inver brand is intended to co-exist alongside Breakaway. The brand propositions between Inver and Breakaway are different. Breakaway has a very Canadian face that is fun and more experiential. Breakaway is a premium offering while Inver is positioned more like a value brand. Both brands are underpinned by supplier support that is targeted at reliability and price.
OCTANE: Is the idea behind the addition of Inver to create more outlets for Greenergy products?
 Mike Healey: Yes. Greenergy products are available to a lot of fuel retailers, but there is an advantage to having a growing retail base of dedicated customers, such as Breakaway and Inver sites.
OCTANE: Who is the Inver c-store retail partner?
Mike Healey: Our preference is that Breakaway outlets include a c-store however, we're flexible. There is no c-store requirement with the Inver offer, but if a dealer wants one, we have partner solutions.  Inver won't constrain you to a specific c-store retail partner.
OCTANE: Is there a region that is the best fit for Inver?
Mike Healey: Best fits are where sites are close to our distribution facilities. As we expand our terminal infrastructure into new regions, we can offer retail brands that are very compelling opportunities for dealers. Both the Breakaway and Inver brands are built to go national as our infrastructure grows.
 OCTANE: Can we expect to see more brand news from Greenergy?
Mike Healey: Our feedback on Inver has been fantastic. We heard from the wholesale market that there was a need for more choice. I think being a new and innovative player in the fuel market, who listens to our customers and offers reliability and dependability is really driving our growth. Inver joins Breakaway as a 100% fresh brand that doesn't look like anything else.
Expect some new Breakaway and Inver branded sites as we open up new facilities such as the terminal we are opening near Ottawa next month. As our support infrastructure grows so too will our ability to meet the market head-on with new branded sites and benefits for the Canadian retail fuel market.