Rabba opens in-store Paramount Butcher counter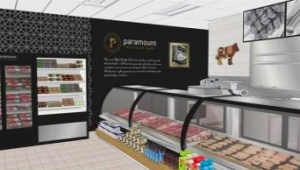 Building on a partnership first announced last year, Rabba Fine Foods has launched the Paramount Butcher counter inside its Meadowvale Town Centre Circle location in Mississauga, Ont. The counter officially opened on Feb. 8.

Rabba Fine Foods describes it as a "scaled-down version" of a Paramount restaurant, featuring take-home menu items from the Middle Eastern restaurant chain. It also includes Halal poultry and deli options, complemented by an assortment of Paramount dips and spreads.

"Our business is in a constant state of flux and we're happy to find in Paramount Fine Foods a partner that is nimble and, at the same time, committed to quality products and service," said Rabba Fine Foods CEO Rick Rabba in a release. "We're determined to help our customers in whatever way we can and expanding this partnership with Paramount is an example of that commitment."

Paramount launched its Paramount Butcher Shop division in 2012 and started expanding the concept throughout the U.S. and Canada in 2015, followed by entry into the Middle Eastern and European markets in 2016. It describes its offering as a blend of "premium cut meats to go with premium quality restaurant recipes from the Paramount Fine Foods restaurants."

The latest announcement comes after Rabba announced in December it was partnering with Paramount to open a prepared food offering called Rabba Kitchen — By Paramount in its upcoming location, its 35th, in Toronto's Regent Park neighbourhood. The company said it plans to roll out the concept in other stores in its network.

Speaking with Canadian Grocer at the time, Rabba president Rick Rabba said the new concepts arose out the "close, congenial" relationship that exists between the two companies.

Rabba also announced this month it opened a Tim Hortons counter, its ninth, at its Lakeshore Boulevard West location in Etobicoke. "We're happy any time we can expand our offering to improve the service we provide neighbours," said Rabba.