12/14/2020
Rabba's new store will feature a menu developed with Paramount Fine Foods
Rabba Kitchen by Paramount will feature the best of both brands, says Rabba Fine Foods president Rick Rabba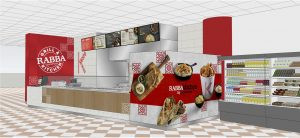 Rabba Fine Foods and Middle Eastern restaurant chain Paramount Fine Foods are creating a bespoke prepared food offering for the grocery chain's newest store in Toronto's Regent Park neighbourhood, set to open next year.

Rabba Fine Foods president Rick Rabba said the new offering, which will be formally known as Rabba Kitchen by Paramount, is the product of a long-standing relationship between the two companies.

"We've always had this close, congenial relationship with each other, and there has been discussion in the past about how we might work together, and we were recently able to come up with this concept that works for everybody," said Rabba. "We're excited that we're finally able to capitalize on this relationship."

Rabba said the two companies are working together to "completely revamp" the in-store prepared foods menu. The menu is still in development, he said, but will feature "the classics" that Paramount and Rabba customers know and love, as well as "new and exciting" elements inspired by Paramount's chefs.

"We're relying on them for their recipe, menu and operational guidance and expertise," he said. "It won't strictly be a Paramount restaurant, and it won't be the Rabba offering, it will be a completely new offering that benefits from the expertise and strengths of both companies."

While Rabba Fine Foods has existing partnerships in place with QSR chains including Subway and Tim Hortons, Rabba said the new model was different because it does not employ a "plug-and-play" approach.

"This is much more of a complementary relationship…that takes advantage of the best of both brands," he said. "This is significantly different from taking a quick-service restaurant franchise and installing it in a Rabba store."

The store, Rabba's 35th, is a new build in a condo tower at the corner of River and Dundas streets in Toronto's revitalized Regent Park neighbourhood. It uses Rabba's familiar small urban grocer format, catering to urbanites with a busy lifestyle and seeking reliable, well-known brands at reasonable prices, said Rabba.

Originally published at Canadian Grocer.