Show off! Convenience U CARWACS Show debuts in Greater Vancouver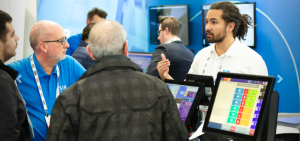 On October 29th to 30th, you'll connect with new business and suppliers at the Greater Vancouver installment of Canada's leading convenience, fuel and car wash trade event—The Convenience U CARWACS Show. Plan to make product discoveries, meet new business associates and learn from industry leaders. Here's why you don't want to miss it:
1. Learn
Day 1: The CCA will host the CARWACS Car Wash Tour, which features interactive site tours, peer-to-peer learning, networking and ample opportunities to nurture camaraderie. After breakfast, the bus leaves Tradex in Abbotsford at 8:45 a.m. and will return to the show at noon for a CCA-hosted luncheon. Then, operators will have a chance to explore the trade show floor.
Day 2: The CCA will conduct two morning education sessions, each offering car wash operators valuable tools to improve their businesses. 
9 to 10:15 a.m. "Leadership Worth Following: Discovering meaningful value in the car wash industry" helps to connect the dots on how to turn your business into a high-retention, engaged and contributing force to be reckoned with that will surely benefit your bottom line.
 10:30 a.m. to 12 p.m. "Advancing your car wash business" is an industry roundtable workshop exploring several key topics, including effective business planning; business development loans; marketing strategies; website development; social media; insurance and much more. Seasoned industry experts will be on hand to answer your questions. 
2. Exhibit
The trading floor opens at 12 p.m. both days. There, you'll connect with highly qualified attendees, of which 91% report they will buy products they see at the show. Bring your questions and find answers among the region's largest collection of fuel, car wash and c-store trade personalities, all gathered in one place. Promote your brand, meet your customers and earn new leads.
 3. 

Network
Join colleagues, make new friends and gather with associates. This is the show where opportunities happen.