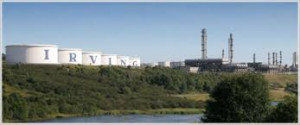 The first shipment of Alberta crude from British Columbia tidewater is on its way to the Irving Oil refining facility in Saint John. The route will take the Panama-flagged tanker, Cabo de Hornos, 11,900 kilometres from Burnaby, B.C. via the Panama Canal to New Brunswick.

The petroleum, sourced through Alberta energy company Cenovus, comes just two months after Irving announced it would seek greater Western Canadian resources for its East Coast facilities following the demise of the Energy East Pipeline project. The (CAN) $12 billion Energy East Pipeline was proposed by TransCanada (TC) Pipelines in 2013 and would have travelled 4,600 kilometres to points in Quebec and New Brunswick. If completed the line would have been among the world's longest and would have carried 1 million barrels of Alberta and Saskatchewan crude per day. Following the election of the Trudeau government, the project was scrapped in 2017, leaving Eastern Canadian-based operators, such as Irving, to continue to source both refined and raw petroleum from the U.S. and other markets.

Now, using the Panama Canal route Irving will see the 229-metre Cabo de Hornos vessel arrive July 14 at refinery receiving docks in Saint John. After the Energy East Project was shelved, Irving approached the Canadian Transportation Agency (CTA) this spring (April) to ask for permission to use foreign tankers in an effort to increase the amount of domestic crude Irving gets from offshore Newfoundland and Western Canada. Approval was granted in May and Irving got busy making arrangements.

Irving has reported that it was importing the vast majority of its refinery inputs from sites in the U.S. and was using about 20% Canadian petroleum in its operations. In its application to the CTA Irving Oil stated that they sought to lessen their reliance on foreign petroleum at their Saint John facility, which is Canada's largest refinery with a daily processing capacity of 320,000 barrels per day.

"It is critical to our customers, to our business, and to energy security throughout Atlantic Canada that we are able to use foreign crude oil tankers to access Western Canadian crude oil on an urgent basis and going forward for one year to allow for effective and flexible supply chain planning and to strengthen the link between Canadian oil producers and our refinery in this challenging and uncertain time," said Irving Oil chief refining and supply officer Kevin Scott.

OCTANE editor Kelly Gray can be reached at [email protected].