7-Eleven Canada says Aloha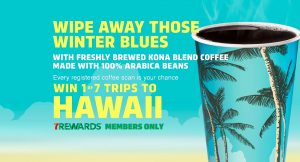 January is cold, dark and gloomy and 7-Eleven Canada aims to help with the post-holiday blues, pulling customers out of their winter slumps.
The retailer is offering cups of Hawaiian Kona Blend Coffee in a special Kona print cup. And, with every registered coffee scan, 7Rewards members will be entered for a chance to win one of seven trips to Hawaii.

The promo shines a light on Kona blend coffee, which is grown and harvested on the slopes of the Mauna Loa on the Big Island - it also encourages customers to sign up for the retailer's loyalty app. Every winter, 7-Eleven promotes its exclusive Kona Blend, inviting customers to escape Canadian winters, even just for a moment.

"With a long winter still ahead, we want to make our customers days a little brighter by bringing that Hawaiian feeling home," says 7-Eleven Canada vice-president and general manager, Norman Hower, said in a release. "The majority of Canadians would like to escape the cold climate during the winter, so we are excited to provide our 7Rewards registered members with a chance to win a trip to Hawaii."



Based in Irving, Texas, 7-Eleven operates, franchises and/or licenses more than 69,000 in 17 countries, including 11,800 in North America.