Portables perform
Nutritious portable snacks are responding to consumer demands for quick, healthy between-meal food options. Is your store making the most of the opportunity?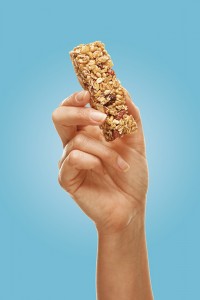 Canadians love snacking and no one does quick replenishment like c-stores. As a result, Canada's quick-service retailers are seeing good numbers with snack foods up 4%* and meat sticks and jerkies up 10%* (*CCSA/Nielsen). Market researcher Euromonitor goes further showing that expectations for savoury snacks, fruit snacks, and snack bars are all strong with cumulative double-digit gains on the boards over the next five years.

Who's winning? Euromonitor reports in its 2017 Passport study that Health & Wellness Savoury Snacks' top gun is Kraft Heinz Co. brand Planters followed by Lays and Blue Diamond Growers. In the fruit snacks segment, General Mills' Betty Crocker is the market leader ahead of Sun Maid and Ocean Spray. In the nutritious snack bar sector, Nature Valley is the hands-down leader. Kellogg NutriGrain bars are number two and Power Bar takes the third spot.

In its December 2016 look at Nutritious Portable Snacks (NPS), Nielsen points to granola snacks and fruit snacks as the leaders. Declines were seen in cereal bars, enrobed products and muffin bars, where both dollar sales and volumes were off considerably. In fact, enrobed snack products were down 34% in dollar sales and 42% in volume. No surprise then that Kellogg has announced a major launch of seven new products in the snack category with granola playing a major role. Indeed, six of the seven fall within the good-for-you sector with granola snacks, trail mix entries and quinoa bars all present in the range of new products.

Other manufacturers have also been quick to get on the healthy snacking bandwagon. In 2015 Mondelez announced plans to have 50% of its portfolio contain 'Well-being' or healthy snacks within the next five years. Reports from the company's Chief Growth Officer, Mark Clouse, state that the Mondelez 'Well-being' snack product range currently delivers about one-third of its total revenue and the company expects to focus 70% of new product development efforts on healthy items over the next five years.

What do retailers say? Stopping into a Co-op gas bar in Winnipeg last week, I picked up two Kind bars on the road out of town. The bars were in a standalone merchandizer offering a range of NPS in a prominent position facing the till. I asked the clerk about the sales from the display. She told me that on her shifts customers still bought traditional confectionery at least three to one. Even though the Kind bars were on promotion, near the till, and with 'two-for' pricing, she felt it was the higher cost of good-for-you products generally that kept them reaching their full potential and taking more sales away from confectionery.

Jim Stuart agrees. Jim is General Manager of Timberfalls Store and Auto Spa in Steinbach, MB. He is a big fan of healthy snacks and offers a wide range of products that he considers to be better for his customers. These include locally sourced meat products, house-made soups like borscht and other items such as GORP, a hand made nutrient laden energy bar that is locally produced and internationally sold from the company's facility on the family farm in Niverville, MB. Jim reports he cross merchandizes GORP and other NPS at the store's coffee bar. "These items [NPS] tend to very impulse driven. We find that promotions such as the [NHL] Jet's tie in with GORP as well as suggestive selling work well to move items that can be more expensive than chocolate bars or plain fruit.

At Timberfalls they have a considerable following for the facility's car wash that can see hundreds of customers per day. Jim tells that to increase sales in store they offer sampling to customers while they wait for their clean car. Today, he is offering his wash clientele a cup of their famous borscht, but given the kind of sales bump these trials deliver to the c-store, he plans to do more with NPS. "We follow other local promotions and compete," he says, remembering a granola bar promo at Petro-Canada, where he matched the offer and increased sales as a result. "If products are good and you can get them into people's hands, you stand a very good chance of making additional sales moving forward. With GORP we did initial sampling and have never looked back. We have never had to discount the product and see it consistently selling thanks to its clean recipe and strong package messaging that resonates with folks who are looking for better nutrition."

Stuart also merchandises NPS bars alongside traditional confectionery, but in a separate section. "This helps people find them among the rows of chocolate and candy," he says.

In Regina, George Klein operates Klein's Food Marts. He reports that sales of things like granola bars and fruit snacks are niche oriented. "You have to know your customer. Here our customers tend to be older and are less interested in products they are not as familiar with. We have found that nutritious bars sell well following an ad campaign or promotion where awareness is driven and then they settle back."

Jim Stuart suggests that to keep sales up in this sector, operators have to be prepared to reach out to let customers know about new products and positive attributes. "We have friendly competitions among our counter staff to help drive sales through suggestive selling at the till. Nutritious portable snacks are perfect candidates for staff to ask if customers need a quick snack to go with their beverage purchase or a little something to get them through the afternoon," he says.

Jim concludes that his expectations are that the NPS sector will continue to grow as consumers move away from empty calories. "Consumers are more educated now than ever and are willing to spend more for a product they see as having a good-for-you glow. Millennials and other younger segments of the market are hungry for change in manufactured foods and these healthy options are seen as a move in the right direction."

QUICK TIPS:

Educate your employees. Train staff in NPS product attributes to aid in suggestive till-side selling

Create a merchandising strategy. Cross merchandize NPS with coffee or waters for strong add-on sales

Know the demographics. Reach out to youth-oriented organizations in your community to let them know you have nutritious snacks

Do your research. Team up with distributors to take advantage of promotions that raise product awareness and drive immediate sales gains

Allow for trials. Offer samples to create post trial long-term sales

Merchandize to sell. Utilize a dedicated secondary sales point to help customers differentiate between NPS and traditional confectionary items like chocolate bars.