Spread the word
Find out what 77% of retailers are sharing on social media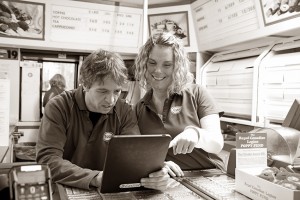 C-store retailers are heading online and setting up social media profiles for their stores at a faster pace than ever before. Retailers are spreading the word about what's going on at their sites, and in doing so, they're keeping their businesses top of mind for customers.

In our 2014 CCentral Independent Retailer Survey, we asked respondents to share their social media strategies. The retailers who have an engaged online community always find a balance between self-promotion and fun, non-business content.

In fact, 40% of retailers say they share information about community events and news, and another 23% say they post fun photos and other items unrelated to their business.

C-retailers are a busy group, but taking the time to create a social media community can build brand awareness and loyalty, and draw regular and new customers in store. So what exactly are other retailers posting about online? Check out the chart and get inspired!

Quick tips

Strike a balance. Find a balance between promotional posts about your store and fun posts about community events or news.

Be consistent. Try to come up with a schedule or quota for the number of posts you'll make each week and stick to it.

Have fun. Social media is meant to be social, right? Have fun with your posts and you'll be a bright spot in your customers' days.







Base: Total answering (with a business Facebook/Twitter account)


2014
%




In-store promotions or deals


77




New products and services


70




Community events and news


40




Contests and prizes


58




Foodservice menu


25




Fun photos or new items unrelated to my core business


23




Other (please specify)


6