10/15/2019
Wake up to how coffee can drive revenue
Turn your c-store into a hot (beverage) destination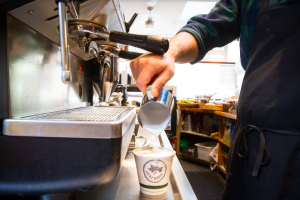 Pouring effort into creating a positive coffee experience for customers has some serious perks, as both convenience store owners and their java partners can attest. Based on the sheer size of the potential market, opportunities to capitalize on it are abundant. Hands down, coffee is the most consumed beverage among Canadian adults, even more than tap water. It's a $6.2 billion industry, including $4.8 million in foodservice sales, according to the Coffee Association of Canada. 

While Tim Hortons dominates the domestic coffee biz, there's room for others to muscle in and grab some market share for themselves. And here's another important number to ponder: 67% of Canadians visit a convenience store at least once a month, according to a Technomic study, which represents an opportunity to create a coffee following with a strong product.

[caption id="attachment_21144" align="alignleft" width="300"]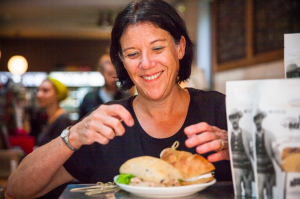 Debbie Rix, owner of The Lucky Penny[/caption]

Debbie Rix, owner of The Lucky Penny, has attracted a steady drip of coffee drinkers to her location near Trinity Bellwoods Park in Toronto. She has focused on offering locally sourced products, like coffee from the city's own Propeller Coffee Co., and fresh milk and cream from Kawartha Dairy. Her convenience/general store has also adopted green practices and cut down on waste by foregoing plastic stir sticks in favour of metal spoons and introducing a loaner mug program, which allows customers to fill up the mug and return it when they visit next. 

"It has been very successful," notes Rix. "Most definitely, coffee sales have been important drivers for the business. About half of our customers come for grab 'n go items and half of that is coffee. The remainder come to pick up groceries and other items, from a mix of retro candy to romaine lettuce and Frisbees."

Since opening five years ago, Lucky Penny strives to be responsive to the wants its clientele. That definitely applies to coffee preferences. "We're not coffee snobs," says Rix. "Our staff are trained to make a customer's coffee just how they like it. We'll try to make it happen."

The store's aim-to-please philosophy helps build loyalty, as does a points program that rewards customers for using reusable coffee mugs and for every dollar they spend. A downloadable mobile app helps track customer spending and point tallies. Fifty points gets you a free coffee and 100 earns $5 off an order. 



To encourage food sales, fresh baked goods are delivered daily, while yogurt parfaits are made on-site. As customers wait for their coffee order, they stand next to an enticing display of pastries. And before transactions are finished, they are offered a special deal of half a loaf to go along with their coffee. When prepping their coffee, clients can add soy/oat/almond/non-fat/full fat milk and sweeten with raw sugar, Stevia, simple or agave syrup, honey, plus a dash of cinnamon. It's further evidence of the "have it your way" philosophy and reflective of consumers' increased desire for healthier eating options. 

Coffee partners can play an important role in getting strong sales brewing, says Dave McQuillin, senior director of food services, Club Coffee L.P., based in Toronto. "We can provide support with branding of coffee in the stores with clear, modern visuals and clean, well maintained equipment. As well, we can provide graphic design for in-store merchandising and loyalty programs. It can elevate your store and make yours the destination over other retailers."

But even the best branding won't work without good coffee. While consumers want convenience and quality, the coffee itself cannot disappoint. "The coffee market has shifted and consumers are knowledgeable and able to recognize good coffee versus bad," explains McQuillin. "A poor experience will absolutely turn them off." That underscores the need for keeping coffee fresh and equipment pristine, up-to-date and in good working order. 

To sweeten the deal, promotions help drive sales. "The most successful ones have been 'any size for a $1' and bundle discounts, like coffee and a muffin or a breakfast sandwich. They do very well, especially in the breakfast space," he says. 

Convenience store owners may also want to borrow a tactic out of the fast food playbook. In March 2019, Burger King introduced a coffee subscription program stateside for its BK Café. Through the company's app, users can enjoy a small daily 12 oz. coffee for US $5 a month, which can whittle down the price paid to 17 cents per cup. For hardcore caffeine enthusiasts, it's a potentially attractive perk, sure to keep the java flowing.

 

Hip sips: Coffee sales by the numbers




16% of past-day coffee drinkers used a loyalty card, while 7% used a mobile app, when ordering coffee in the past week, according to the Coffee Association of Canada.




3.2: average cups per day consumed by coffee drinkers.




42% of consumers say they purchased hot brewed coffee/lattes/etc. at a convenience store in the last three months, making coffee the second highest ranking items in terms of sales, second only to fountain beverages, according to one U.S. study. 




38% of convenience store customers who ordered coffee said they were interested in single origin and flavored coffee roasts, according to research firm Mintel. 




56% of Americans who have visited a convenience store in the past three months feel that it makes coffee drinks as good as coffeehouses, according to Minitel data. It also discovered

many consumers associate convenience stores with coffee.

IIf

a coffee program is done well, it is likely to boost overall foodservice sales.




Side bar: 7 ways to perk up coffee sales




Channel your inner barista. Sophisticated coffee fans want to be able to customize their drinks with flavoured creamers and syrups.




Stock healthier options. Mix up your selection of grab 'n go food-friendly items by offering things like vegan donuts, whole wheat or flax muffins, and fresh fruit.




Upgrade your equipment. New self-serve Schaerer machines grind the beans and make pressure-brewed cups similar to French press versions. 




Offer high-octane options. While sales of some coffee types have been flat, espresso sales have experienced a big leap recently.




Go green. Consumers like to feel good about the coffee they purchase. Consider organic, fair-trade sourced beans, unbleached paper coffee pods, wood or bamboo stir sticks instead of plastic ones, and recyclable cups and lids.




Just chill. Expand your coffee selection to include cold brewed coffee beverages, which experienced a whopping 80% jump in sales, according to one Bloomberg report. Frozen cappuccinos or smoothies spark coffee consumption during warm weather.




 Celebrate! Build a promotion around International Coffee Day on October 1. That could include special pricing, new products, contests, social media blasts, or pairings with a food item.




This article originally appeared in the September/October issue of Convenience Store News Canada.