03/16/2021
New coalition rallying to get beer and wine in Ontario c-stores
The convenience industry is forming the Convenience and Choice coalition to pressure Ontario's Conservative government to reconfirm its commitment to allow convenience stores across the province to sell wine and beer.

The Convenience Industry Council of Canada, Ontario Korean Businessmen's Association, Ontario Convenience Stores Association and Free My Booze are teaming up in a targeted initiative calling on Queen's Park to fulfill its promises as the government prepares to table a new budget.

Premier Doug Ford promised during the 2018 election campaigning to make beer and wine available in corner stores, grocery stores and big box stores. In March 2019, Ontario's then-finance minister Vic Fedeli said the province would keep its election promise and was moving ahead with an expansion of beer and wine sales in corner stores, big box stores and more grocery stores. It also announced the expansion of the LCBO Convenience Outlet program. In May of that year, the Conservative government tabled legislation that would terminate a contract with The Beer Store and pave the way for putting beer and wine in corner stores. The move was met with much pushback from The Beer Store and a tangling of ongoing discussions with the brewers that are parties to the master framework agreement.

In the wake of the pandemic, discussions continued, but for the most part the issue fell of the radar. Then, 7-Eleven confirmed it had liquor sales licence applications in play to open in-store consumption sites in 61 of its stores across the province.

"We are committed to meeting the needs of our Ontario customers and we look forward to the opportunity to grow jobs and contribute to the Ontario economy," the company said in a statement.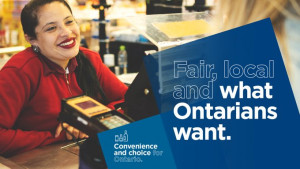 Now, the coalition is putting pressure on the Conservatives to ramp up efforts to allow responsible beverage alcohol sales in Ontario convenience stores. The move, according to the coalition, gives Ontarians more choice, while supporting local businesses that have been hard hit by COVID-19.

"This issue is very closely connected to economic recovery and innovation," says CICC president and CEO Anne Kothawala.

The social media campaign is directed at members of Queen's Park, not the general public. The coalition points out that convenience stores are in every community across Ontario, providing local jobs, supporting local economies and local products. The group also argues that c-stores have a solid track record selling age-restricted products, including lottery and tobacco.